I recently had the really cool experience of showing a couple of the world's best race car drivers around Miami.
Sam Bird and Jaime Alguersuari are professional race car drivers for Sir Richard Branson's Virgin Racing team. Not only is this dynamic duo a force to be reckoned with on the pavement, they're also a blast to hang out with. Here's a shot of us in South Pointe Park…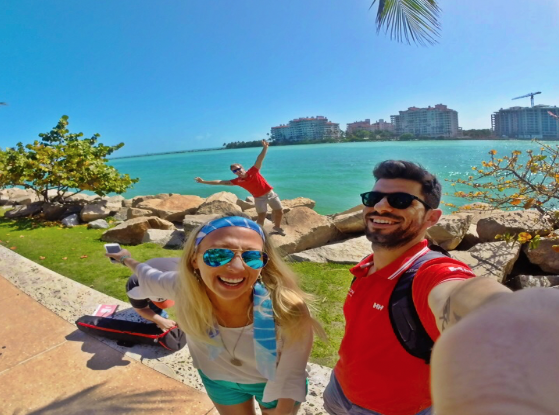 The drivers were in town for the FIA Formula E Miami ePrix, a professional championship competition where electric race cars zoom through urban city centers. It's all part of a 10-city race circuit that kicked off in Beijing for the first Formula E race in the series last fall. So far 10 teams have competed around the world, including the inaugural race in China, followed by circuits in Malaysia, Uruguay and Argentina. Then they came to Miami. The LA competition follows in Long Beach on April 4. Then teams head back across the pond to Monte Carlo, Berlin and Moscow. The grand finale happens in London this summer.
Since this was the first time Sam and Jaime had visited Miami, I wanted to make them feel right at home. So I took them on a tour of some of the city's most popular sites. Check out the video below with a cameo appearance by yours truly:
So what exactly is Formula E racing? They're fast cars and can gain excessive speeds, especially considering the fact that they zoom down the streets of big downtown city centers. But what makes these high-powered automobiles stand out from other race cars? They don't take a drop of gasoline. They're purely electric powered. Very cool!
So from exploring South Beach to watching the Miami HEAT play, I think the Virgin Racing team left Florida with incredible memories of the fifth ePrix of the season. And get this: Sir Richard Branson even took a moment to take a selfie with the Miami Dolphins Cheerleaders. Ha, love it!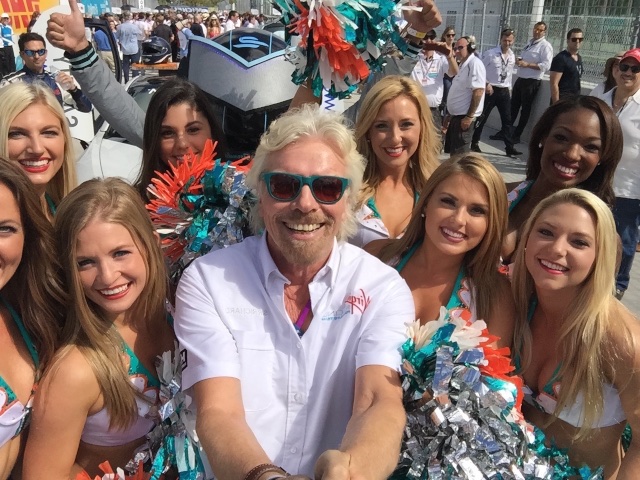 So, of course, Sam and Jaime did their own Miami Vice style photo shoot. These guys are non-stop entertainment…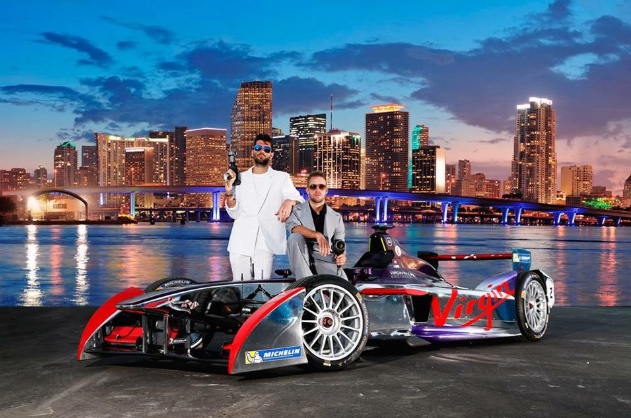 We had a blast and I'm hoping they will come back and visit Miami soon. For more information on the Virgin Racing Formula E Team, and to track Sam and Jaime's races around the world, visit VirginRacing.com.