There's nothing better than pulling up a barstool at an oceanfront tiki bar, sipping on a delicious tropical cocktail and taking in the sights and sounds of the Atlantic Ocean.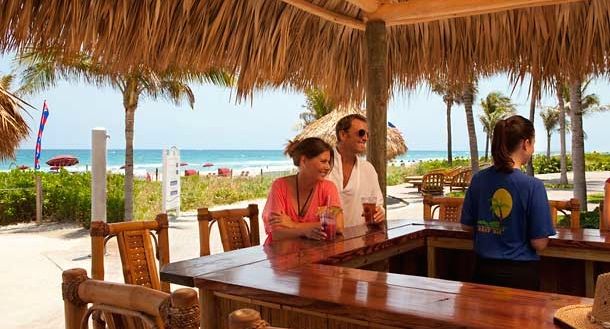 The Palm Beach Marriott Singer Island Beach Resort & Spa is a four-diamond oceanfront resort with stylish condo-style suites and full-size kitchens. Situated on a gorgeous, barrier island between Jupiter and Palm Beach, the resort is a great vacation destination — and the perfect place to sip on an island libation.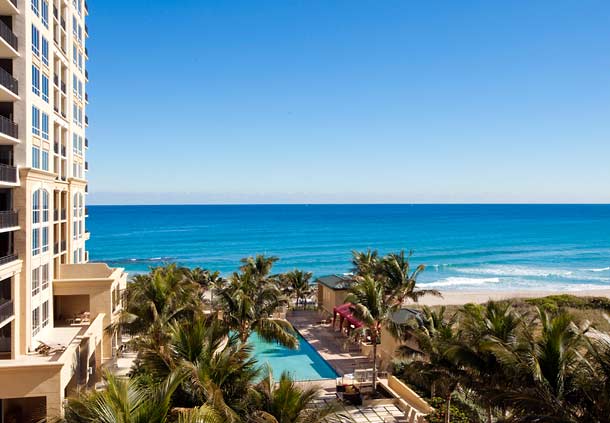 I chatted with Amye Mitchell, one of the resort's head bartenders, and asked her about the resort's most popular drink specials.
Kara: What are your most popular tropical cocktails?
Amye: Frozen daiquiris, of course! And our signature Coconut Island Breeze cocktail. It's served in a freshly cut Florida coconut and it's the best way to cool off.
Kara: Sounds delicious! What's makes the tiki bar at the resort the best place to hang out for the day — or the week, for that matter?
Amye:  It's the feeling of being lost on an island right on the Atlantic Ocean, but you've got the benefits of five-star service here. You can see the white-sandy beach and the water from one of these bar stools. Plus, we've got the 4 to 6 p.m. happy hour and our famous "Bubbles on the Beach" special.
Kara: Tell me about the "Bubbles on the Beach" special — that sounds like my kind of special.
Amye: We offer $6 glasses of Nicolas Fuillatte every Friday from 4 to 6 p.m.
Kara: Count me in for the bubbly. When is the busiest time at the resort?
Amye:  The summer is very busy time for us, with the kids on summer break, so is spring break. We are a very family-friendly destination. There's a reef located just off of our beach that's awesome for snorkeling. Both kids and adults love it.
Kara: Do you have any special rates for families who book their vacation this summer at the resort?
Amye: We do! I believe we have a "Beach Bum Water Sports Package" that would be perfect for families.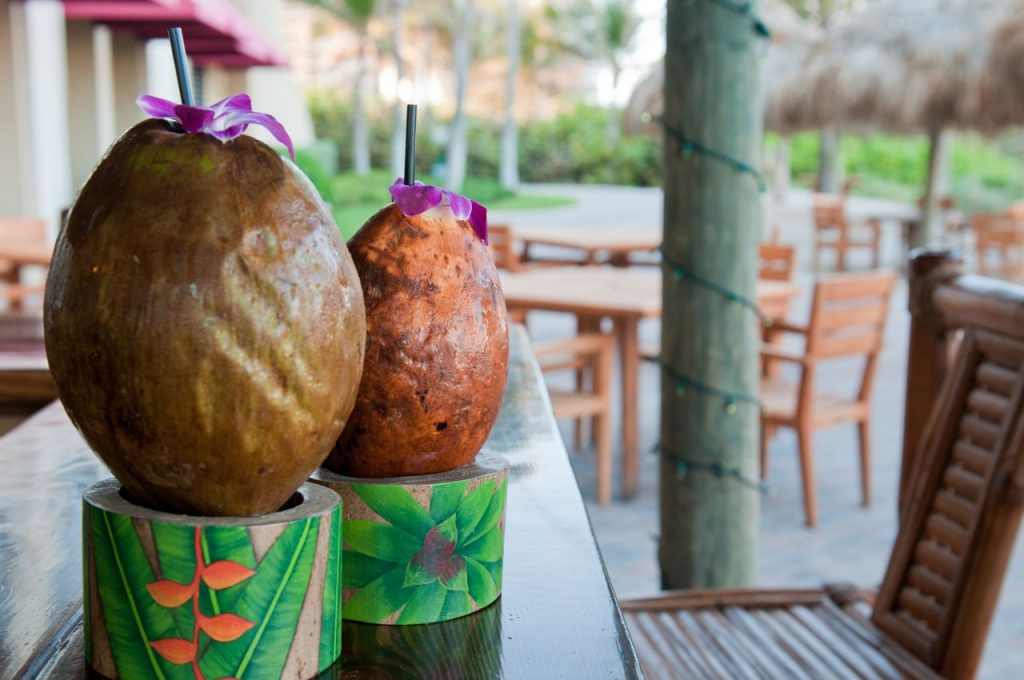 Try out the recipe at home! 
Coconut Island Breeze Cocktail Ingredients:
1 ounce of Banana Liqueur
1 1/2 ounces of Wray & Nephew White Overproof Rum
2 ounces Coconut Water
2  ounces of Coco Lopez Cream of Coconut
4 ounces Pineapple Juice
1 whole lime
1 fresh coconut
Instructions: Blend liquids, squeeze lime juice, then shake over ice. Strain into coconut and garnish with an umbrella.
Beach Bum Water Sports Package: The package includes a personal cabana and use of all non-motorized water sports for four people. Activities include: ocean kayaks, snorkel gear rental, surfboards, stand up paddle-boards, boogie boards and inner tubes. A three-night stay is required.
If You Go: The Palm Beach Singer Island Marriott is located at 3800 North Ocean Drive in Singer Island, Fla. For more info call 561-340-1700 or visit the resort online. To book the Beach Bum Water Sports Package, use the following code: S29.