Have you met Ponce de Leon? He's a furry, four-legged explorer and adventurer with a Florida travel obsession. If you've seen my Instagram Stories, then you know that I'm obsessed with my mini schnauzer. So he travels with me almost everywhere I go.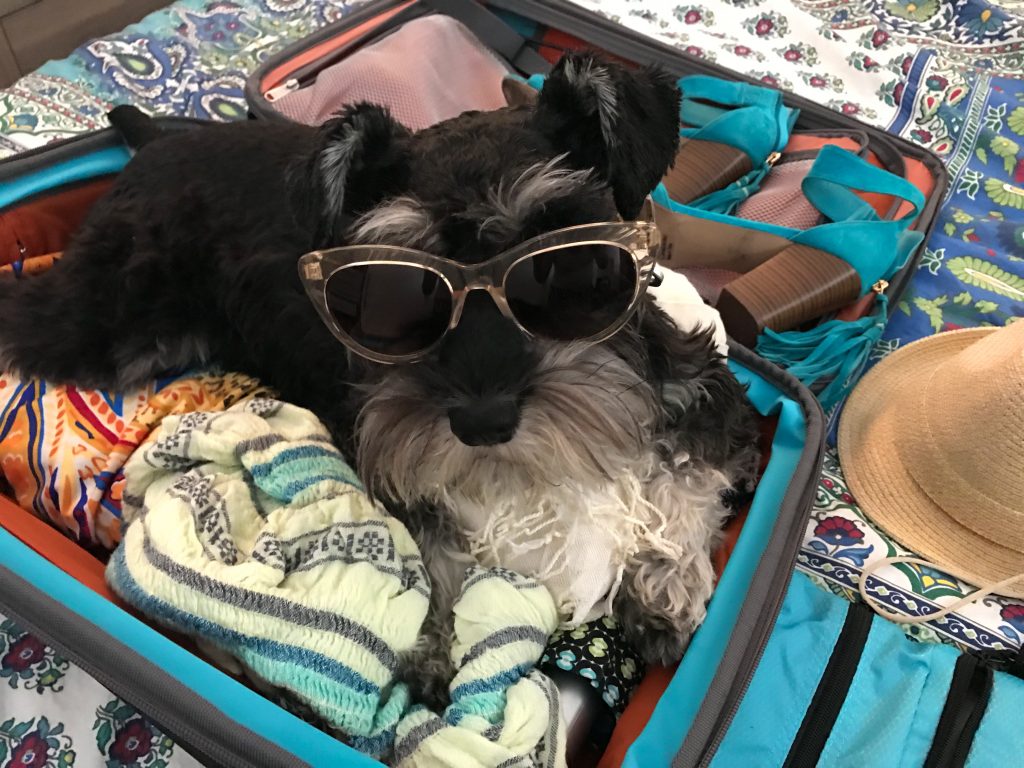 In fact, he's crisscrossed the Sunshine State (including The Florida Keys, Palm Beach, Fort Lauderdale, Orlando, Naples, St. Pete Beach, Tampa, Miami and more), plus he's hung out in New York, Colorado and Washington D.C many times. I won't list all the states he's driven through this summer, but I think it's around 16! Let's just say at the young age of two-years-old, Ponce de Leon has caught the travel bug and he's no stranger to suitcases. In fact, he finds them quite comfy.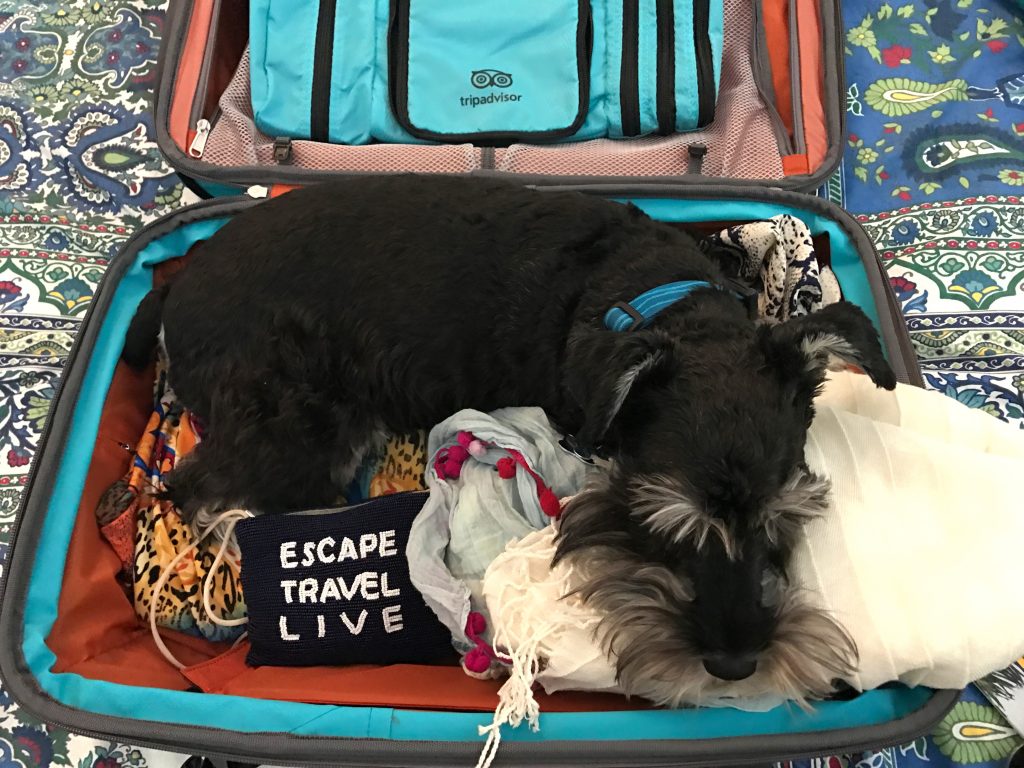 So when TripAdvisor asked me to review their new luggage collection (and giveaway a set to a lucky reader!), Ponce de Leon couldn't help but get involved in the assignment too. As soon as it came in the mail, I put the TripAdvisor 21″ Wheeled Duffel (retails for $189.99) on my bed to check it out. And that's when PDL decided to pose next to it…what a ham!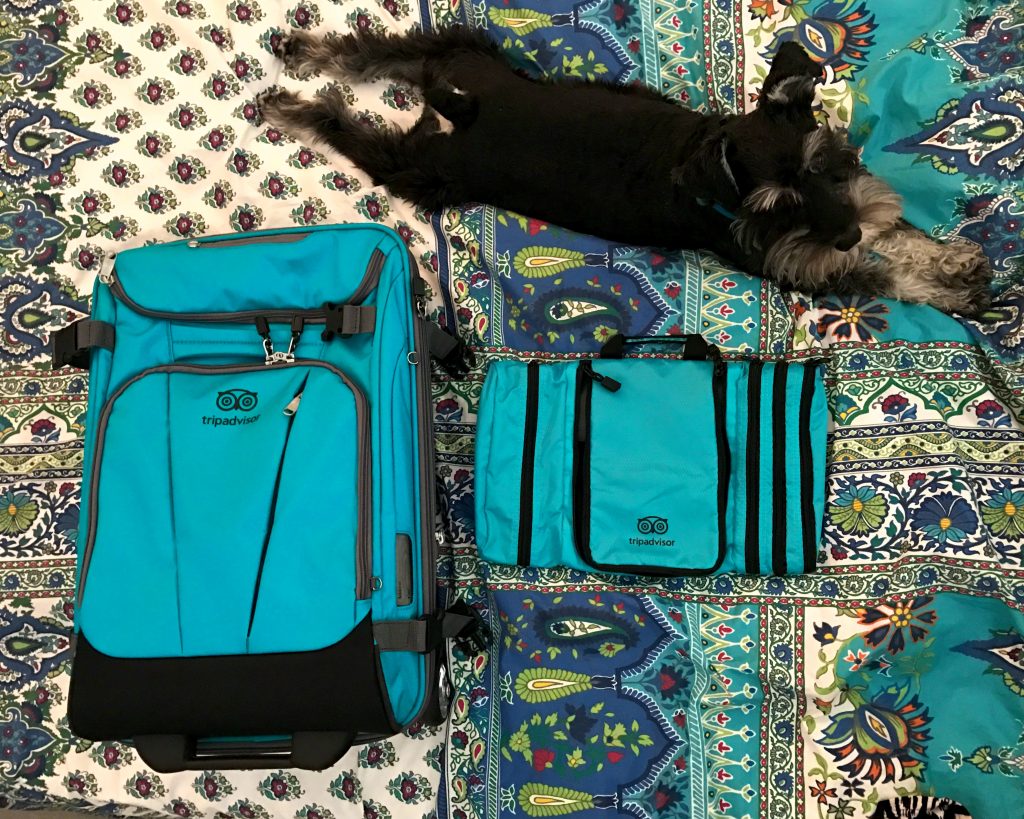 I noticed the suitcase is really lightweight and it will definitely be a great carry-on size for airlines.They come in a bunch of different colors, but I, of course, chose blue (my fave). The TripAdvisor Slim Toiletry Kit (retails for $29.99) has four separate compartments and will fit perfectly in the bigger luggage. Next, let's open it up and see what's inside.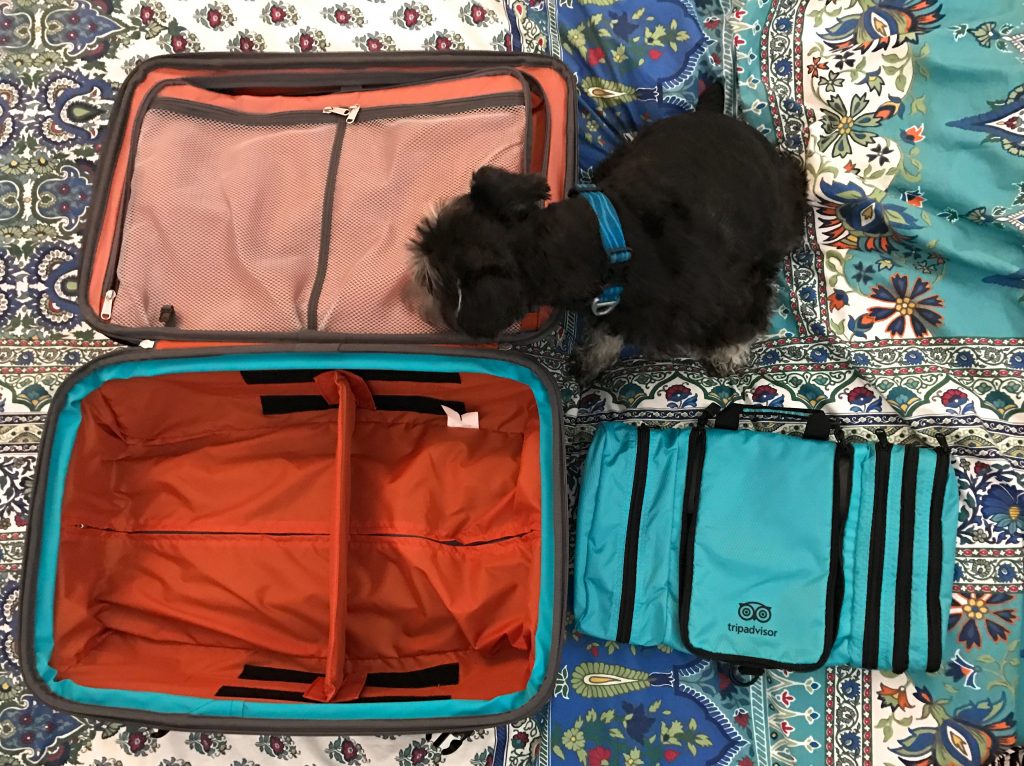 There's a movable shelf and what they call an expansion gusset…which is just a fancy way to say the suitcase gets bigger.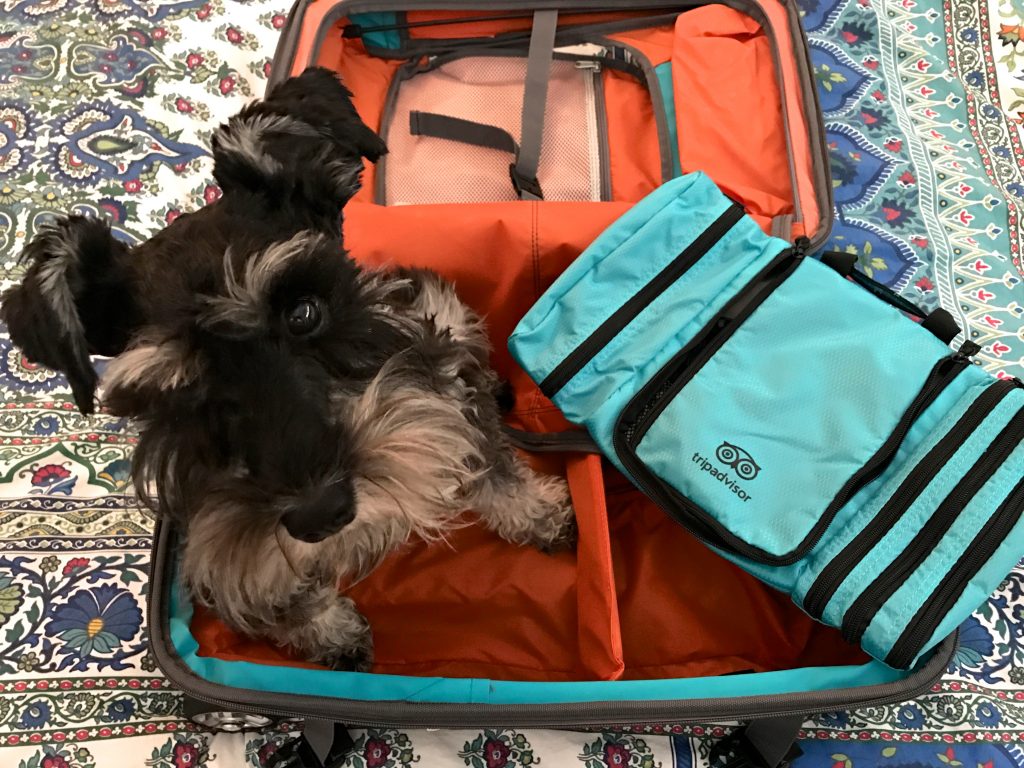 I noticed you can roll that top pocket down. And then there's an outer access point, so you could reach into your bag without having to unzip the whole thing. Ponce de Leon seemed game to try this out, lol.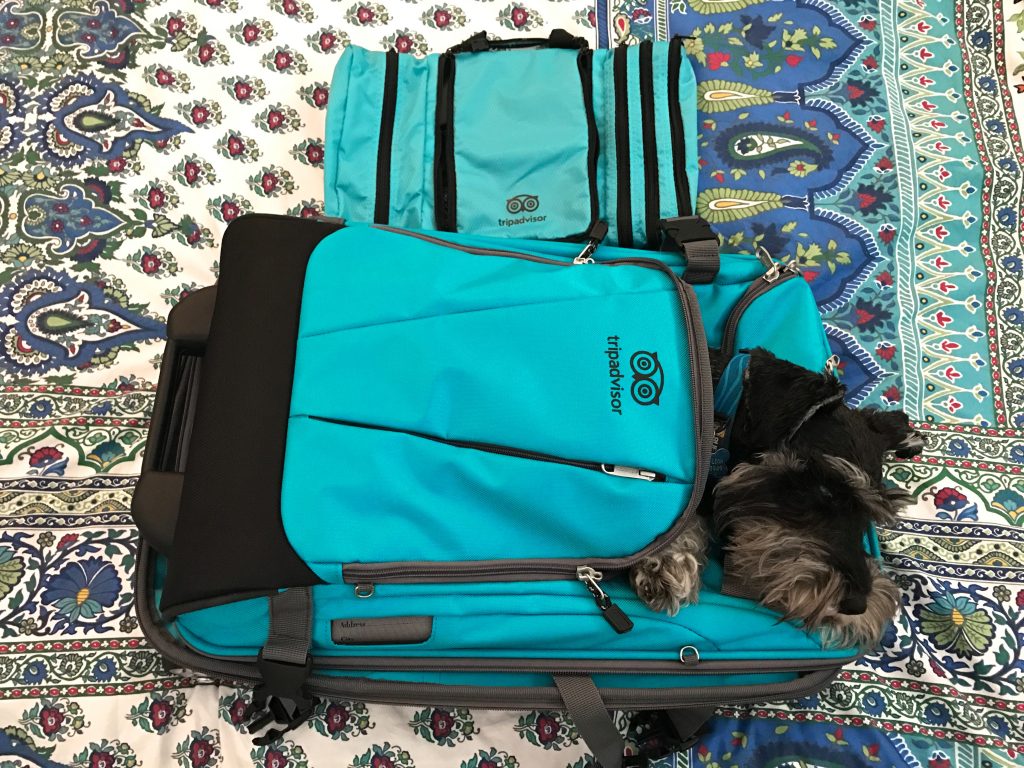 Then I took a break to look for stuff I could pack. He seriously just chilled there like it wasn't a big deal.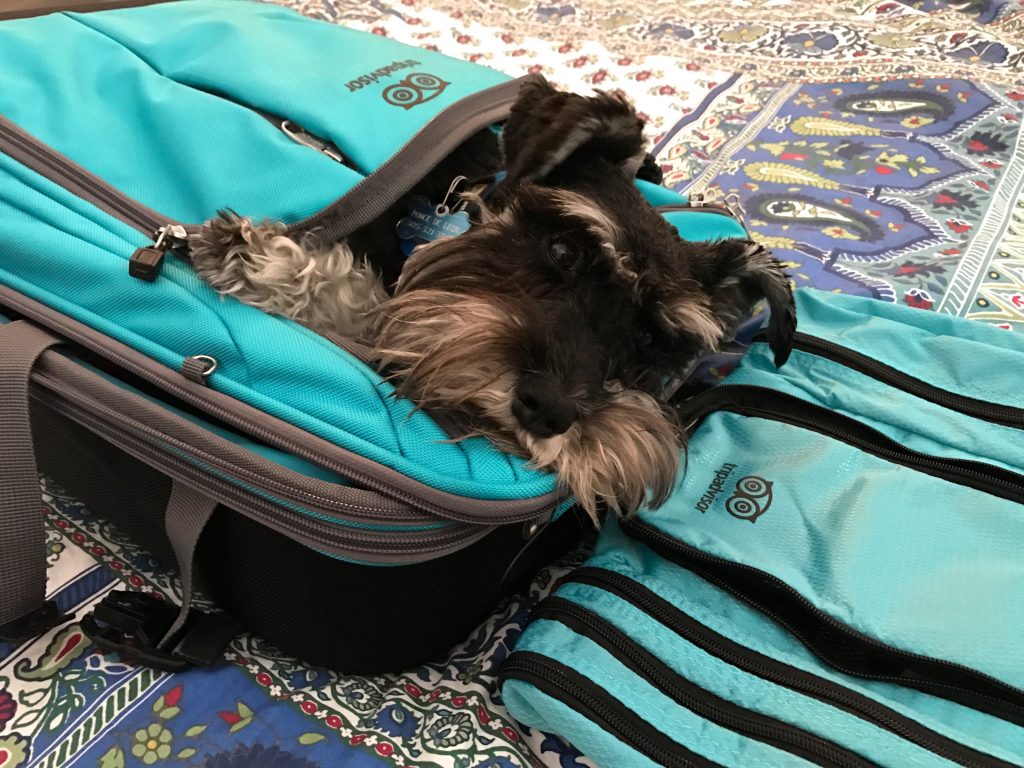 It turns out that you can fit quite a few important items into the suitcase, including a 15-pound miniature schnauzer.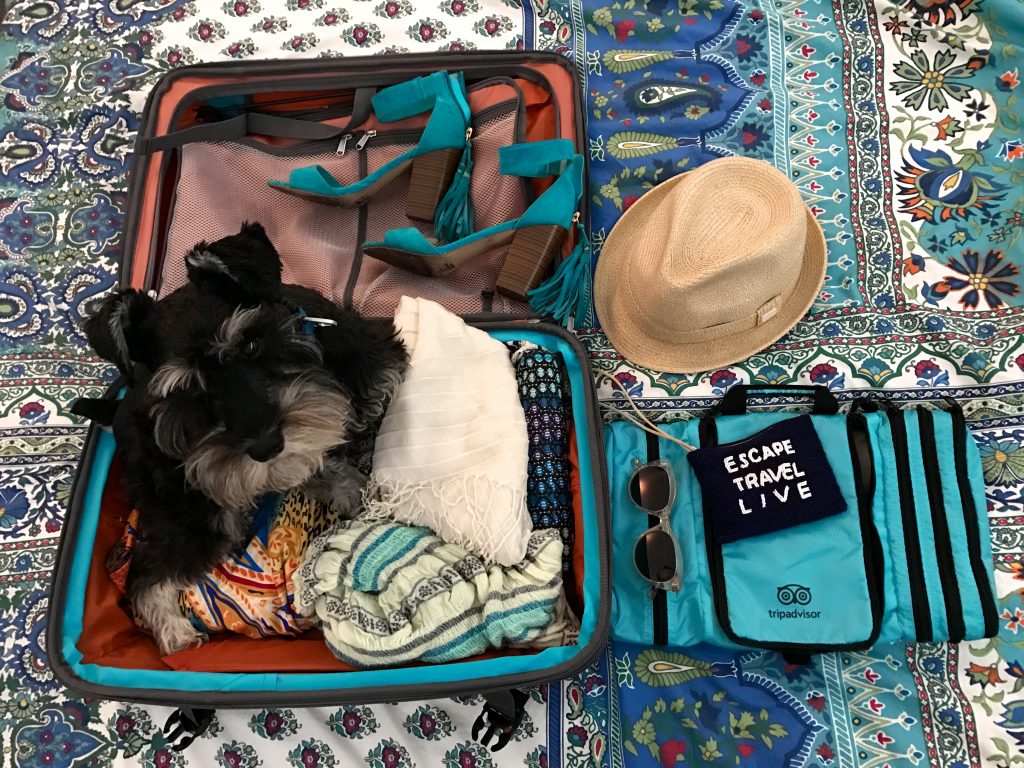 I guess Ponce wanted to make sure that he didn't get left behind. That's when I decided to drape a scarf over him, to see if he would stick around. And he did.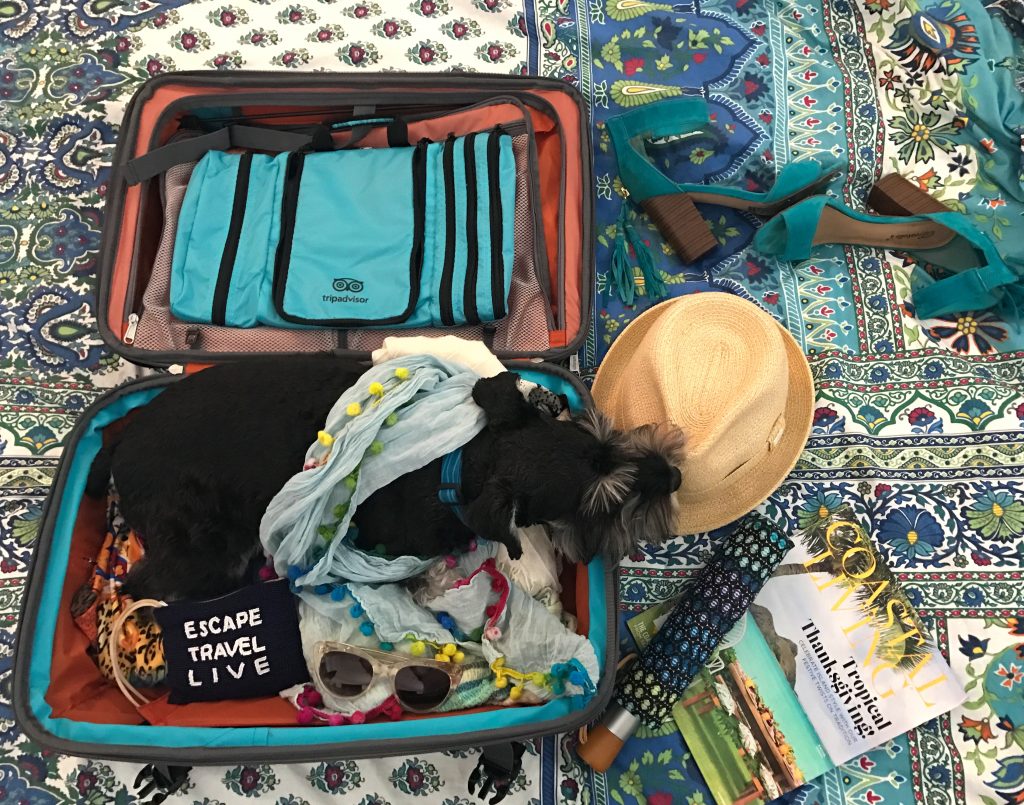 And that's when I thought that maybe he should try on my sunglasses. It turns out, he didn't mind that either. Nothing phases this guy! I think it's safe to say that we both genuinely like the suitcase.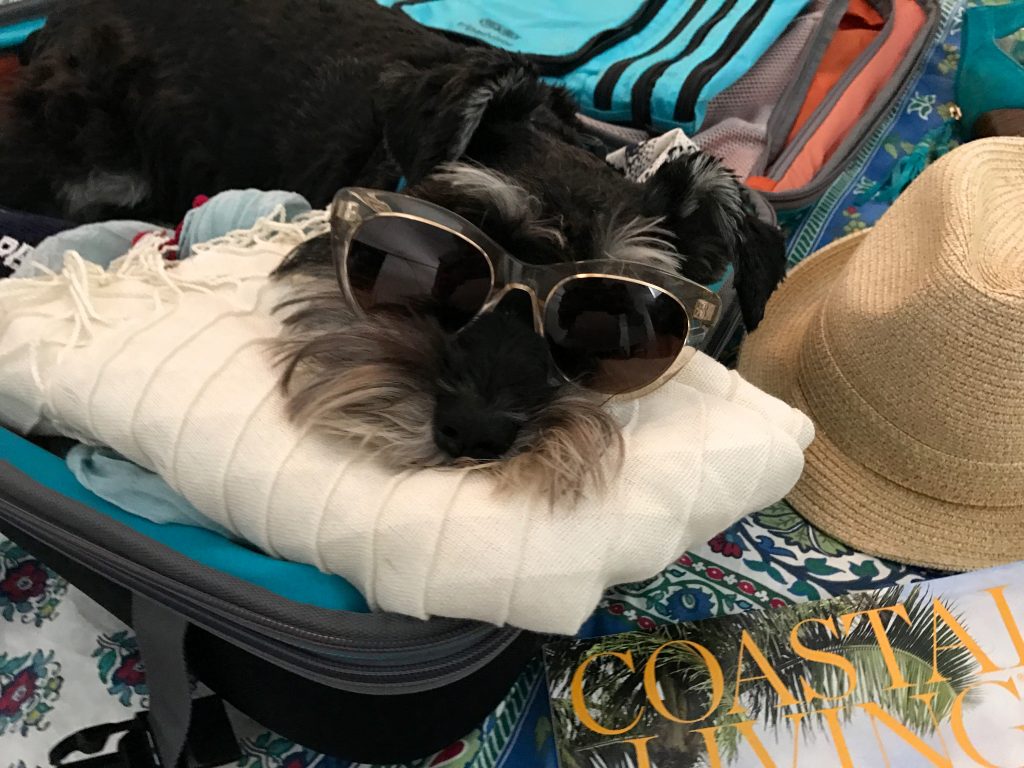 Ready to win your own set?
Here's how you can win a set of TripAdvisor luggage:
Follow me on Instagram: @KaraOnTheCoast
In the comments on the photo of Ponce de Leon, tag at least two friends who'd you think would also want to win.
And we'll randomly pick a winner!
The prize includes: TripAdvisor 21″ Wheeled Duffel ($189.99), TripAdvisor Slim Toiletry Kit ($29.99) and TripAdvisor Portable Battery Charger ($49.99).
If you'd like to purchase your own set of TripAdvisor's new luggage collection, you can get a 25 percent discount if you use the following link from eBags.
xoxo
Kara (and Ponce de Leon)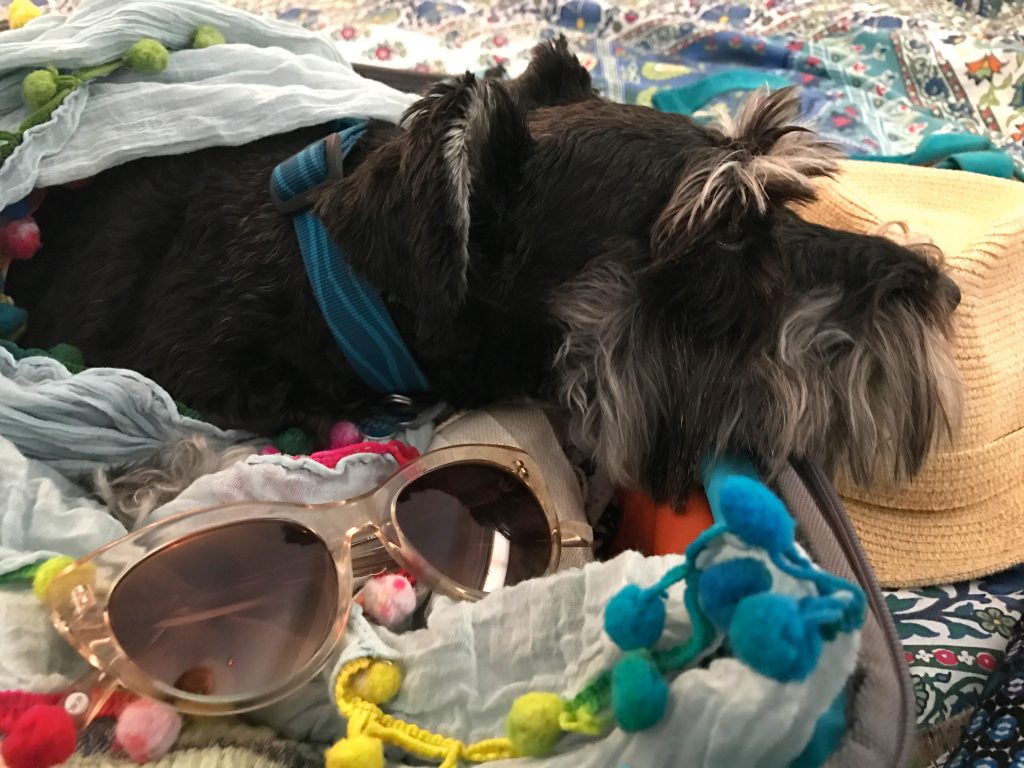 P.S. This is a sponsored post, but I only do these when I think the product is worthy and that you'll actually like it as much as I do. Here's some extra info about TripAdvisor and eBags…
TripAdvisor is the world's largest travel site, enabling travelers to unleash the full potential of every trip. TripAdvisor offers advice from millions of travelers and a wide variety of travel choices and planning features with seamless links to booking tools that check hundreds of websites to find the best hotel prices. TripAdvisor branded sites make up the largest travel community in the world, reaching 350 million average monthly unique visitors, and reached 385 million reviews and opinions covering 6.6 million accommodations, restaurants and attractions. The sites operate in 48 markets worldwide. TripAdvisor: Know better, Book better and Go better.
With more than 17 years in travel and 26 million bags sold, eBags is the leading online retailer of luggage, backpacks and accessories. The company is devoted to helping its customers find the perfect travel gear for any journey. eBags features 67,000 products from 600 brands, including Tumi, Samsonite, Kenneth Cole, Patagonia, North Face and more.