Believe it or not, South Beach isn't the only beach in Miami. There are actually some amazing beaches in this glitzy Florida beach town that offer a more laid back, family-friendly type of vibe.
And don't get me wrong. When I'm in a party mood, South Beach is a great stretch of sand where you can hang out with the crowds, sip on a cold cocktail and watch the beautiful people pass on by. In fact, I wrote a blog post about some of the best rooftop bars with beach views in Miami.
But sometimes I just wanna kick back and not worry about whether my swimsuit is in style for the season or if the party crowd is going to get a little too rowdy that day. And sometimes I just want to enjoy the sun, sand and surf without anyone else around. (Yes, that is possible in Miami!)
In my opinion, the best time to go to the beach is first thing in the morning. Miami is a late-arriving town and that includes beach goers. Show up early (like around 8 or 9 a.m.) and have your own slice of beachfront paradise all to yourself…and the fam!
My picks for the top five family-friendly beaches in Miami:
1. Bill Baggs Cape Florida State Park on Key Biscayne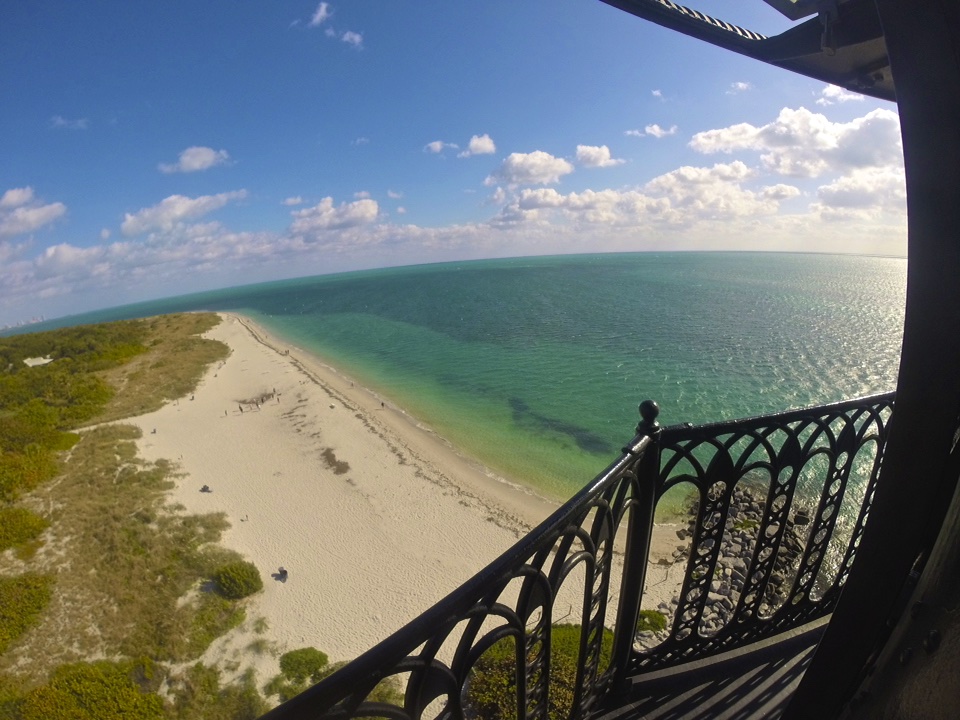 Bill Baggs Cape Florida State Park is located at island's end on Key Biscayne, which is about 10 miles from downtown Miami. You have to cross a toll road to get there and just as an fyi, the Rickenbacker Causeway is now managed by SunPass. Then you make the trek through a tropical island village and at the very end of Crandon Boulevard you'll find the entrance to the park. It costs $8 per vehicle and that includes parking, which there's plenty of.
If you're a sucker for crazy-awesome views like me, then climb up the Cape Florida Lighthouse and the panoramic vistas from the top will literally take your breath away. The lighthouse is open at 10 a.m. and 1 p.m. every day except Tues. and Wed.
Make sure you walk over to the southwest corner of the park, where you'll find picnic areas and views of Stiltsville…which I find to be absolutely fascinating. These historic houses on stilts have housed Prohibition era rum-runners and weathered major hurricanes.
There are two restaurants in the park: Lighthouse Café and Boaters Grill. I wish the food was good…I really do, but it's just not that great. And it's sad because there's so much potential! You're better off bringing your own food and grilling out in one of the picnic areas.
2. Crandon Park Beach on Key Biscayne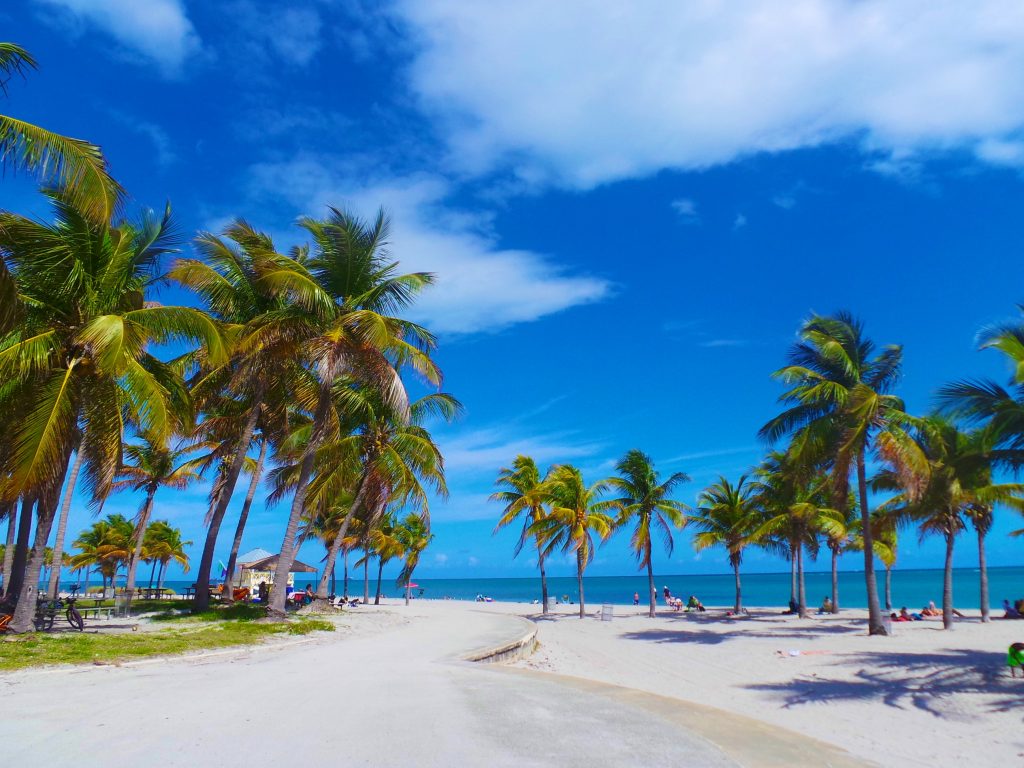 Also located on idyllic Key Biscayne, Crandon Park is situated at the entrance to the island and on the opposite end from Bill Baggs. This beach is a hotspot for TV commercials and magazine photo shoots. Sundays tend to be the busiest day, so if you're looking for less crowds, then go on a weekday or early on Saturday morning. On weekends the entrance fee is $7 per vehicle.
The northern section of the beach is a great area for kite-boarders and it's not uncommon to see dozens of them soaring across the water on weekends. Miami Kiteboarding offers kiteboarding equipment to rent, as well as lessons, stand-up paddle boards and a snack shop.
The southern section of Crandon Park offers ample picnic tables and shady spots to hang out under palm trees. Wander back into the park and you'll find what's left of the old Crandon Park Zoo. While there aren't any lions, tigers or bears any more, you will find hundreds of different kinds of colorful wild birds. I've seen swans, peacocks, ducks and more.
3. Matheson Hammock Park Beach in Coral Gables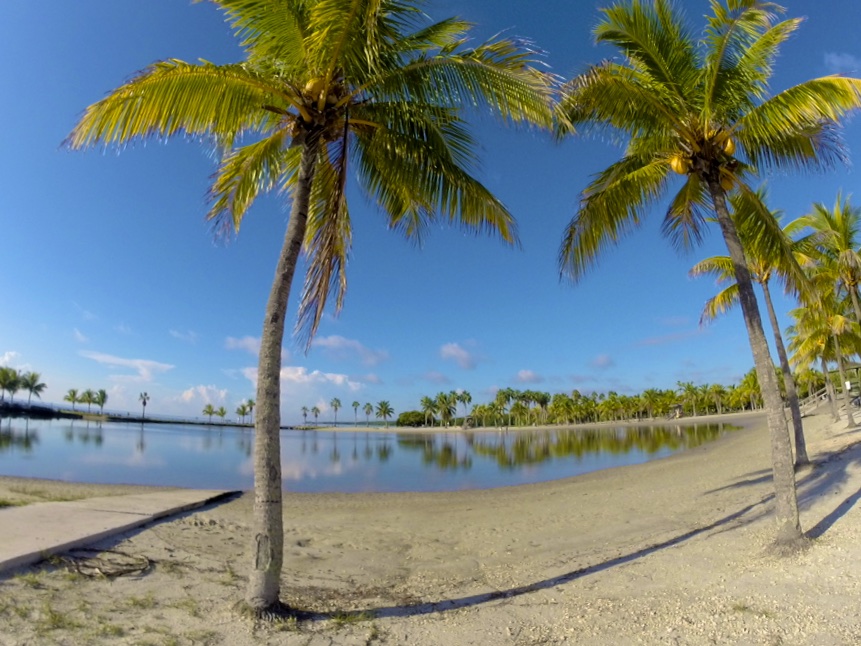 If you're looking for a good way to introduce salt water to a little one, Matheson Hammock Park's lagoon is the perfect place for children and families. The 630-acre park offers tons of waterfront property to explore and there's an on-site marina. The entry fee is $5 per car on weekdays and $7 on weekends.
One of my favorite Miami area restaurants is located inside the park: Red Fish Grill. Located on the beach with spectacular water views, this hidden gem offers a menu rich with delicious seafood options. Here's the catch: they're only open for dinner and you'll need to have reservations, so make sure you plan ahead. Oh, and this place was featured in the movie There's Something About Mary, so ask to sit at Cameron Diaz's table.
4. Hobie/Windsurfer Beach on Virginia Key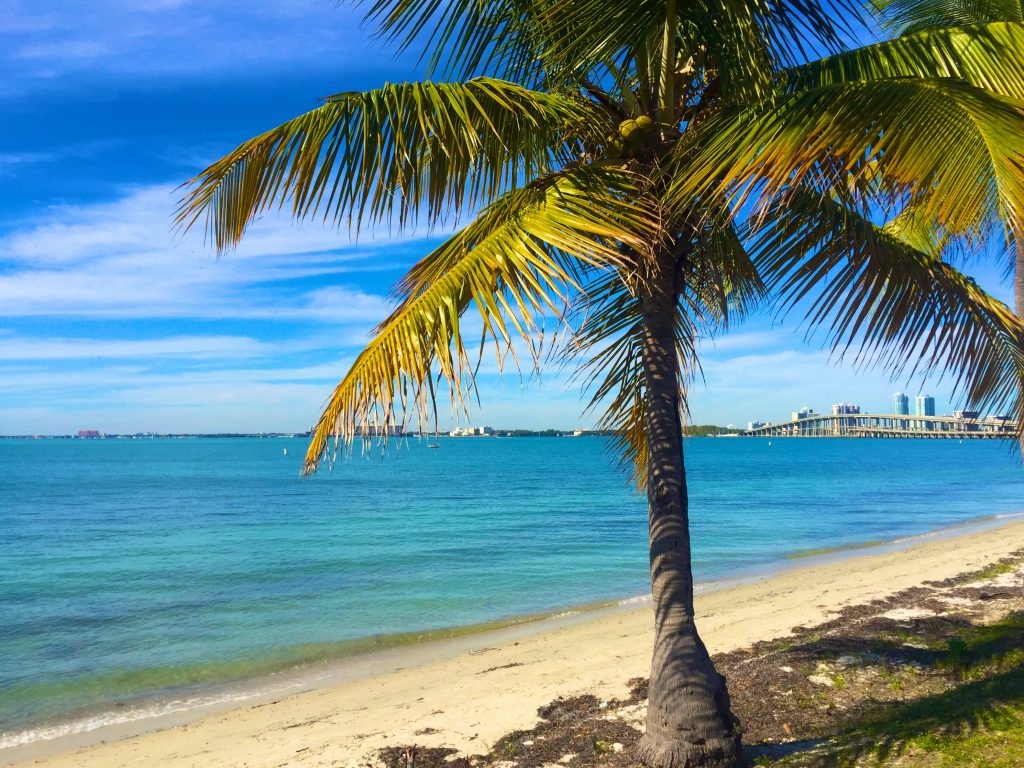 This is the beach you passed on the Rickenbacker Causeway on the way to Crandon Park and Bill Baggs. Blink and you'll miss it. But it's a great spot especially if you have a furry four-legged family member that loves the sand and surf. Hobie/Windsurfer Beach (it's known by both names) is dog friendly! And there aren't any fees to park. Just make sure you get there early.
You'll want to bring your own chairs, umbrella, cooler and food. But there are public restrooms along the beach. And if you're into SUP-ing or kayaking, make sure you check out Sailboards Miami. They're easy to spot because of the white and yellow trailers located right on the beach.
5. South Pointe Park Beach on South Beach (yup, you read that right, I wrote South Beach)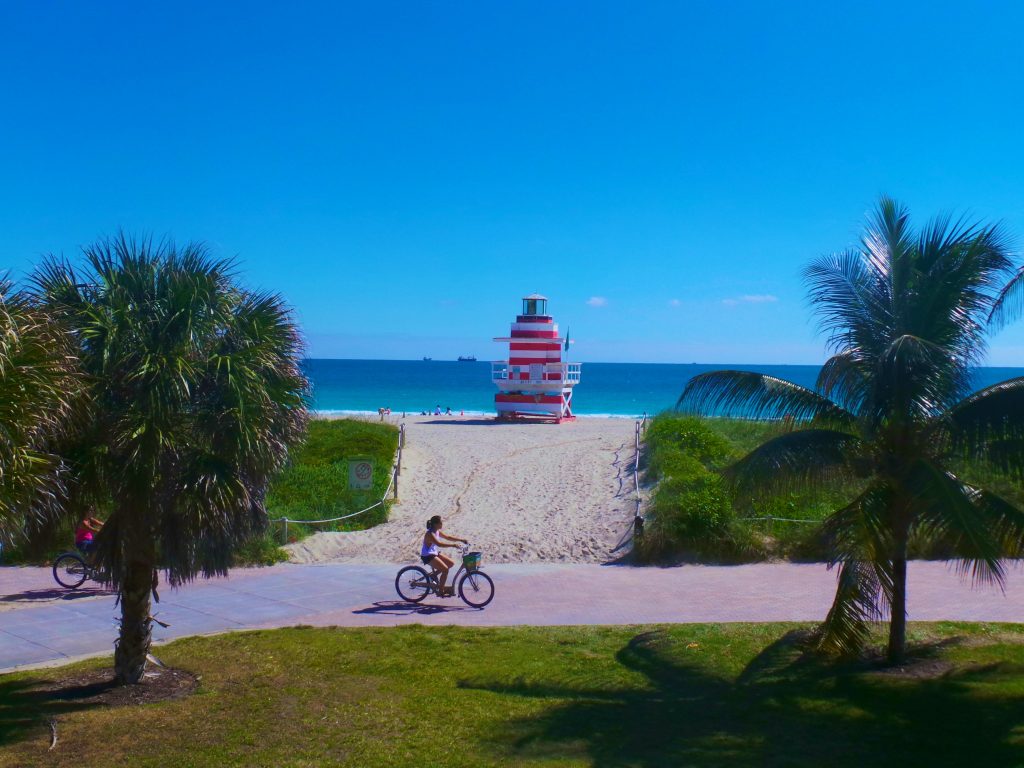 Usually only the locals know about this section of South Beach, so shhhhhh don't tell anyone I told you! But South Pointe Park is a picture-perfect oasis on the southernmost section of the beach…far from the party scene near Ocean Drive.
Most of the locals with families opt for this beach because of the kid-friendly facilities including a mini splash and play area, lots of green space, a dog park and a Blissberry frozen yogurt stand.
Here's what you need to know: parking is hard to find and expensive on the weekends (they charge a whopping $20 or more per vehicle). I have a secret lot where I like to park near Big Pink. The address is 137 Washington Ave. Miami Beach, FL 33139. It's a small lot and it's kind of hidden, but you'll have to get there early to get a spot. Have fun!