Sea turtles have been swimming free in the world's oceans since the beginning of time, but as you probably know, they're in danger of extinction.
Fortunately groups like the Sea Turtle Conservancy based in Florida are working hard with companies like the Four Seasons to help protect endangered sea turtles.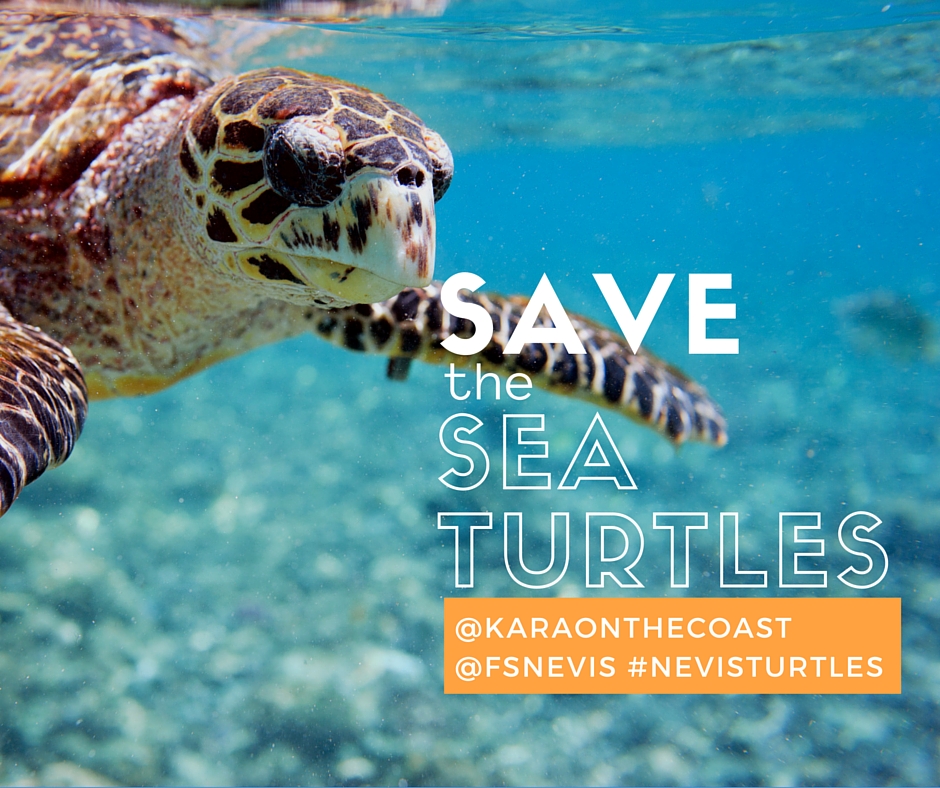 I'm obsessed with sea turtles. I think they are THE cutest creatures and I'm amazed that God designed them to be such adventurous ocean swimmers. They migrate hundreds and sometimes thousands of miles, spending 90 percent of their life in the water. How can you not fall in love with these little guys?

Let's Do Something Good Together
For awhile now, I've been searching for ways to use my platform and social media channels to give back. Of course, I know I'm very fortunate to be able to travel to tropical places and write about it as part of my job. But I've had this nagging feeling that I want to rise above that surface-level-style travel blogging and really do something meaningful.
That's where Four Seasons Resort Nevis comes in. And specifically, their partnership with the Sea Turtle Conservancy.
Whoa, wait a minute!!
I know what you're thinking: she just name dropped a super luxurious, five-star Caribbean resort. And that's how she's going to "give back"??? whatevs.
Now I never said I was going to camp on a deserted island, catch my own food and save a few sea turtles along the way. I mean, I might have done something like that in my early twenties, but this thirty-something pregnant lady (yes, there's a baby coming!!) needs A/C. And a super comfy pillow top mattress, marble bathroom, unlimited WiFi, bacon and eggs for breakfast (I'm taking this eating for two thing very seriously) and a plush robe. Oy vey, I'm so high maintenance these days! ;)
Back to the turtles…
Every year, Four Seasons Resort Nevis helps researchers study the migration patters of endangered sea turtles that nest on the island's beaches. The resort sponsors two GPS satellite transmitters to help the Sea Turtle Conservancy track the migration patterns of sea turtles that return to Nevis to lay their eggs. How cool is that!
Sea Turtle Weekend at Four Seasons Resort Nevis:
July 14-19, 2016
I'm traveling from Miami to Nevis for the island's 10th Annual Nevis Sea Turtle Conservation Event to broadcast it live via Periscope on @FSNevis for the Four Seasons.
I'm so excited about this opportunity because we are going to show anyone who wants to tune in to Periscope, the entire process: tracking the turtles, following them into the ocean (I need to bring my waterproof iPhone case!) and all of the fun and fanfare surrounding Sea Turtle Weekend.
Plus, I'll be interviewing locals and experts live on Periscope, so we can do a deep dive into this important conservation effort.
***If you're not sure how to use Periscope, then check out their Help page for a list of frequently asked questions, including how to get started.***
How sea turtle tracking works: a group of volunteers will spot nesting sea turtles with staff from Four Seasons and the Sea Turtle Conservancy, under the guidance of local Nevis Turtle Group, who keeps a close watch on turtle activities and protects nesting sites throughout the season. Once a sea turtle is found and finishes nesting, the volunteer group will bring the turtle back to the resort, where it will be fitted with a satellite transmitter and released into the sea the following morning.
To date, 17 hawksbill turtles have been released since the start of the program in 2006. The most recent Hawksbills from Nevis were named Luna and Millie and they were released last year. And you can actually see where they've been using the GPS tracker technology.
You may be wondering: where exactly is Nevis?
The island of Nevis is located next to St. Kitts in the heart of the West Indies. Part of the Leeward Islands chain, Nevis is only 36 square miles and there is a very small airport that can only accommodate small planes. Most travelers fly into St. Kitts and then take a short boat ride across a two-mile channel to Nevis.
Fun tourist facts about Nevis:
There's a volcano in the center of the island and hot springs on the western slope.
The island was named Oualie ("Land of Beautiful Waters") by the Caribs and Dulcina ("Sweet Island") by the early British settlers.
The name, Nevis, is derived from the Spanish, Nuestra Señora de las Nieves ("Our Lady of the Snows").
Those early British settlers brought monkeys with them and now there are tons of wild monkeys on the island (maybe even more monkeys than people!)
Nevis is the birthplace of Alexander Hamilton.
Today there are about 12,000 residents that live in Nevis.
As of July 2016, St. Kitts and Nevis don't have Zika according to the Center for Disease Control and Prevention (woohoo!).
Three species of sea turtle nest on the shores of Nevis: Hawksbill, Leatherback and Green.
Hawksbill and Green turtles nest from April to November, while Leatherbacks nest from March to June.
The beach with the highest nesting density in Nevis is Lover's Beach with around 110 nests per year.
Don't forget to follow along on social! I'll be broadcasting from the Four Seasons Resort Nevis' Periscope channel July 15-18, 2016 at @FSNevis. Look for alerts on Twitter!
Twitter: @KaraFranker, @FSNevis
And follow along for all the fun on these channels too:
Instagram: @KaraOnTheCoast, @FSNevis, @ConserveTurtles, @NevisNaturally
Facebook: Kara on the Coast, Four Seasons Resort Nevis West Indies, Sea Turtle Conservancy, Nevis Naturally
xoxo
Kara