Whether you're looking to rekindle romance in a luxurious setting, or you're hoping for an off-the-beaten path adventure in a natural environment, Miami has the best of both worlds. If you aren't in the mood for love before the following experiences, you will be afterwards.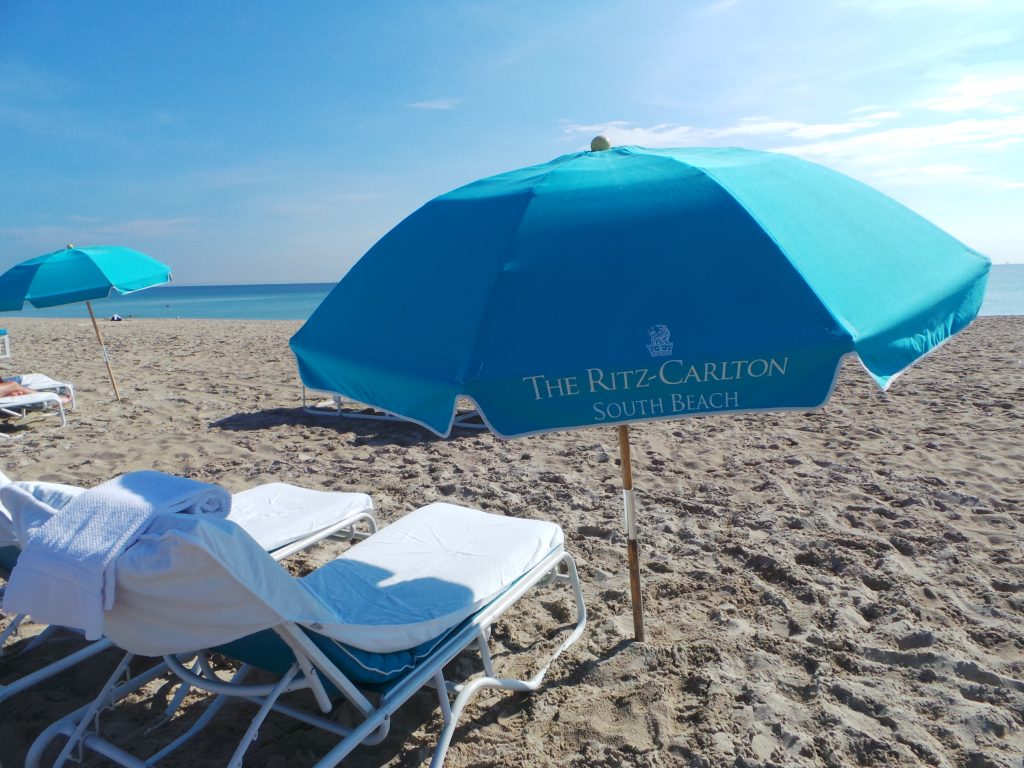 Day One: Lavishly in Love with the Glitz and Glam
9 a.m. – Stroll Hand-in-Hand, in the Sand
The most romantic time of day to enjoy the sprawling white-sand beaches of Miami, is the morning. If you can wake up early enough for the sunrise, you won't regret it. No crowds, soft breezes, breaking surf, the calls of seagulls — it all creates a sense of peace and well-being for the two of you to start your day.
12 p.m. – Champagne Brunch with Ocean Views
For the couple who is in love with the luxurious (and each other, of course) indulge in an al fresco cocktail brunch on the pool deck at The Ritz-Carlton, South Beach. Delectable food pairings, unlimited handcrafted cocktails and drop-dead gorgeous views of the Atlantic Ocean — what more could you ask for?
4 p.m. – Bike, Stop, Shop, Repeat
Get ready to work off that brunch and do a little shopping at the same time. Hop on a bicycle on South Beach and hit up all of the fabulous boutiques along Collins Avenue and the Lincoln Road Shopping District. Then cruise the trails of South Pointe Park to take in the sights of Fisher Island and PortMiami.
8 p.m. – Italian Food is for Lovers
There's nothing quite like a good bottle of red wine and authentic Italian pasta that will rekindle romance — it worked for Lady and the Tramp didn't it? Prime Italian in "SoFi" or Scarpetta at the famous Fontainebleau hotel are both excellent choices. Or try the lesser-known, but equally delicious family-style eatery called Macaluso's off Alton Road. Il Gabbiano and Perricone's Marketplace are delectable choices in Brickell, near Downtown Miami.
11 p.m. – Let the Rhythm Move You
Miami is famous for it's glamorous nightlife and trendy clubs. If the high-energy club scene isn't for you, but you still want to groove, spice it up with salsa dancing at Yuca in the Art Deco District on Licoln Road. Or move to the beat of your own drum, just the two of you, with your toes in the sand and the starry night sky up above.
Day Two: Off-The-Beaten Path Romance for Nature Lovers
9 a.m. – Blueberry Pancakes and Mimosas in The Grove
Stroll down the tree-lined streets in Miami's eclectic Coconut Grove neighborhood and stop into Greenstreet Café for breakfast. It's nestled on a lushly landscaped corner next to local shops and boutiques. Sit outside at one of the umbrella covered tables, sip mimosas and nosh on fresh blueberry pancakes.
10:30 a.m. – Wander Through an Enchanted Tropical Garden
Option 1: Stroll through 10 acres of lush, formal gardens at Vizcaya, a bay front mansion in Coconut Grove filled with decorative treasures from Europe. Afterwards, eat lunch at the Vizcaya Café.
Option 2: Or take Main Highway south — wind your way through its canopies of banyan trees and royal Poincianas — until you find yourself at Fairchild Tropical Botanic Garden in Coral Gables. It offers nearly three miles of pathways that meander past rare tropical plants and brightly colored flowers. Eat lunch at the Glasshouse Café.
Option 3: Head further south and discover the 444-acre Deering Estate at Cutler, where you can embark on a romantic canoe tour, take a guided nature hike or enjoy a butterfly walk, hand-in-hand. Take a picnic lunch to enjoy together.
2:30 p.m. – Stop in for a Savory Treat at a Strawberry Farm
Family owned and operated for 50 years, Knaus Berry Farm in the Redlands offers pick-your-own strawberries. And the strawberry milkshakes are to-die-for. They also bake some of the best homemade cinnamon rolls you've ever tasted.
4:00 p.m. – Visit a Monument to Lost Love in Homestead
Down the street from Knaus Berry Farm, you'll find Coral Castle. It was constructed between 1923 and 1951 by a tiny Latvian immigrant (he only weighed 100 pounds), who by himself, moved and sculpted more than 1,000 tons of coral rock. He built the coral "garden" as monument to his long lost fiancée.
8:00 p.m. – Dine at the Water's Edge on Biscayne Bay
Head to a hidden jewel, Red Fish Grill, located inside Matheson Hammock Park. While it can be a little hard to find, look for the sign with a red fish and you'll know you're on the right track. Sit at beachfront tables in the sand, nosh on fresh seafood and toast to a fabulous, romantic getaway in Miami.
This story originally published on MiamiAndBeaches.com.