What happens when you pit an impressive line-up of Miami Dolphins legends and highly acclaimed South Florida chefs in one major grill-off? Sounds like pure entertainment to me!
John Offerdahl's Broward Health Gridiron Grill-Off Food, Wine & Tailgate Festival is scheduled for Sat., Nov. 8, 2014 from 1 pm to 4 pm. More than 2,500 football fans and foodies are in for a real treat during this exciting event that combines food, football and charity, with new elements, such as The Jack Daniel's Tennessee Honey Tailgate Challenge, Guy Harvey's Sustainable Seafood Village and Chef Allen Susser's VIP Culinary Exhibition.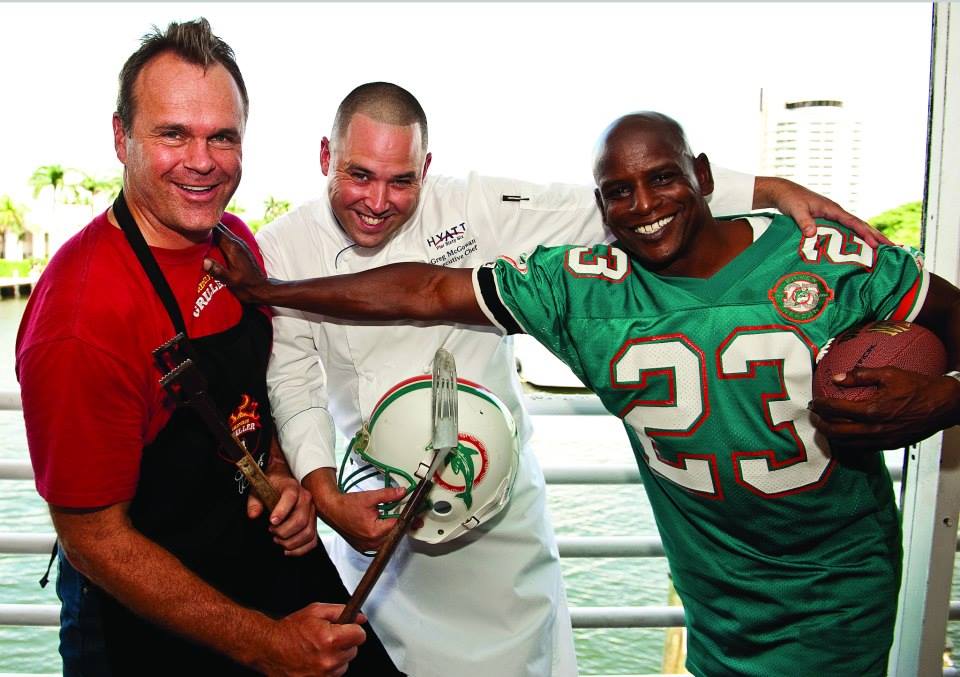 Last year attendees got to meet and eat with Dolphins legendary running back, Troy Stradford.
Fine dining takes center field as each team creates one signature grilled entrée paired with premium Gallo wines that will be sampled by event guests during the Gridiron Grill-Off. One winning team will be recognized with the People's Choice Award, while a team will be selected by a panel of judges to receive the coveted Judge's Choice Award.
It will be a food lover's event with past menu items such as #69 Sims' Bourbon BBQ Pork Cheeks, #25 Oliver's Boursin Cheese and Foie Gras Meatball, #85 "Super Duper's" BBQ Pacu Fish Ribs, #23 Stradford's Fennel Crusted Hanger Steak and #64 Newman's Santorini Grilled Octopus.
In the tradition of this great event, guests will compete at the Toyota Cornhole Stadium and enjoy music throughout the day with the Masters of Ceremonies, Finsider's Greg Likens and Footy of Y-100 fame.
Where to Stay:
The Fort Lauderdale Marriott Pompano Beach Resort & Spa is offering a Gridiron Grill-Off Weekend Package including a two-night stay at the oceanfront property, two tickets to the Gridiron Grill-Off, roundtrip shuttle service and 20 percent off of beach watersport rentals and spa treatments at SiSpa. The package starts at $400, plus tax. Make your reservation online with the promotional code ER7.
If You Go… Event tickets are $85 each or $125 each for Chef Allen Susser's VIP Culinary Exhibition, which includes access to all of the Gridiron Grill-Off festivities. Tickets are on sale now at gridirongrilloff.com.
All of the proceeds from this tribute to football, food and charity benefit Offerdahl's Hand-Off Foundation, which directs funds to agencies that "Feed the Needs of Kids in Crisis," including 4KIDS of South Florida, HOPE South Florida, Here's Help, Florida Restaurant & Lodging Association Educational Foundation, Miami Dolphins Foundation and Taste of the NFL.
Want more travel tips from VISIT FLORIDA's Entertainment & Luxury Insider? Follow Kara Franker on Twitter, Facebook and Instagram.