It wasn't enough to throw a big party with live beats and bottomless champagne — no, not for The Ritz-Carlton. To unveil their brand-new updated spa on Key Biscayne, the resort hired drop-dead gorgeous mermaids to swim around in the completely renovated jacuzzis.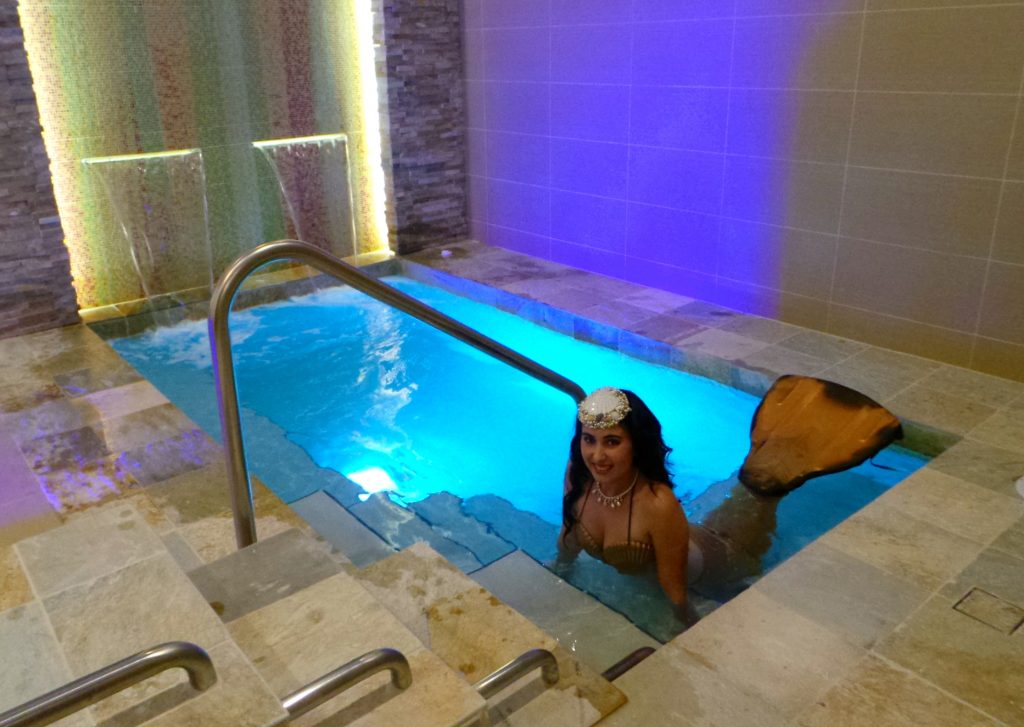 I've always dreamed of meeting a mermaid. Maybe it's because I've always secretly wished I was a mermaid?
Anyway, here's the lowdown on the fabulous spa updates:
Enter the expansive 20,000-square-foot space and you'll immediately notice a soothing mosaic waterfall, beckoning you to relax and unwind. New details include modern gold fixtures, contemporary art displays, updated wet areas including jacuzzis, saunas and steam rooms, a new expanded relaxation area and lovely salon and treatment rooms.
The new wellness and fitness center is huge and includes private day lockers and all new state-of-the-art cardiovascular and weight equipment. A new monthly fitness calendar offers indoor and outdoor classes for both guests and locals. (Sign me up!)
Enhancing the relaxation experience, Spa Director David Bremer debuts a contemporary new spa menu. Inspired by the lush tropical island of Key Biscayne, the menu caters to men, women and expectant mothers, with treatments such as the Signature Tropical Paradise Hydrating Wrap, Piña Colada Body Polisher and Island Escape package.
I love getting my nails done at the resort and I was thrilled to hear they're launching a new vegan nail polish. Rumor is that The Ritz is the first spa in South Florida to offer this type of product. Offering a variety of colors, wHet nail colors are not tested on animals and "three free"- devoid of the harmful chemicals, formaldehyde, toluene and DBP (dibutyl phthalate). Love it.
If You Go: For those looking for a relaxing getaway, book the resort's Spa-Cation package including overnight accommodations and daily $100 spa credit. Rates starting from $299 per night. Available through December 31, 2014. For reservations, contact (305) 365-4500 or visit www.ritzcarlton.com/keybiscayne.
Here's a photo I snapped of my husband with a beautiful blonde.