I'm not a social media expert. But I am a social media nerd. This means I spend ridiculous amounts of time obsessively observing how certain Instagrammers publish content.
Then I borrow (okay, maybe I steal) their ideas and try it out on my own account. Sometimes my strategy works and sometimes it's a major fail.
I tend to fail quite often, but that doesn't bother me because I see it as a learning process (that's a lie). I know that some of these Instagrammers use an account manager which websites like EarthWeb have spoken about before, but I wanted to manage it myself.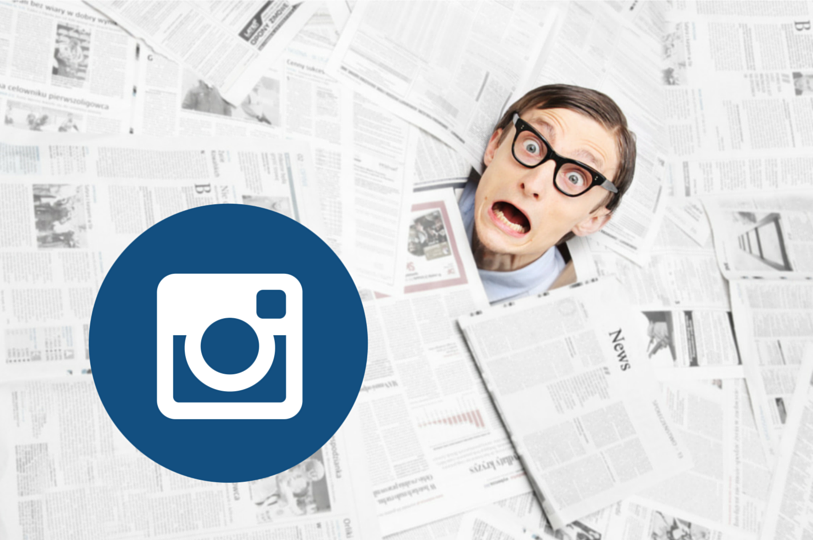 Instagram has a whopping 300 million users. That's more than Twitter, Tumblr or Snapchat.
And it's growing. In fact, Instagram grew by 64 percent in 2014.
Why do those stats matter? Because some users have figured out how to make Instagram part of their business models and they're making a killing.
The bigger Instagram gets, the more opportunities abound.
And when I say users are making a killing, I'm talking hundreds of dollars per photo — if not thousands. Wowzer. Yeah.
According to a Yahoo Tech article, Instagrammers represented by a company called The Mobile Media Lab who have more than 100,000 followers can break into the $700 to $900 range per photo. And if you have 500,000 followers, you're looking at between $2,000 and $3,000. Certain fashion-centric Instagrammers can command double and triple that amount.
And just as a side note, to work with a company like The Mobile Media Lab, you usually need to have at least 10,000 followers. Don't get discouraged, I'm not there yet either. It takes a lot of work and dedication to get there, so don't expect it to happen overnight. There are things like Instagram bots, such as Ingramer, which can help. But ultimately, it's up to you to post engaging content and grow your account. You need to define your niche, curate content accordingly, and most importantly, you need to know who checks your brand often. For instance, most of the Instagram users might be teens and youth. So if you happen to have a product that caters to the elderly and you advertise it to the youngsters, it might not succeed as much as you have expected. Therefore, finding your target audience and knowing where they are active the most is very important. If your target audience is active on Instagram, you can then hire a third-party marketing company like BuySellShoutouts, which is reviewed by The Small Business Blog here. Always check the credibility before you opt for additional services.
Social influencers who not only publish photos on Instagram, but also write blog posts and promote brands throughout all of their social media channels, can make that price tag soar into the tens of thousands of dollars.
Here's an example of a blogger/Instagrammer who makes it rain — both for the brands she represents like Pantene — and for herself. An unconfirmed rumor puts her price tag in the tens of thousands category. And I totally have a girl crush on her…
Just imagine.
What if all you had to do was publish a photo and you had instant cash in your pocket?
I'm guessing it's not that easy. But it's interesting to analyze nonetheless.
And while I haven't cracked the secret code (yet), here are some of the strategies I've tried and failed at. Maybe you can avoid some of my mistakes.
Don't post photos that suck (obviously).
When I first joined Instagram about three years ago, I posted a lot of random nonsensical photos. Check out my very first photo and notice the complete and utterly terrible list of fails:
First of all, the photo just plain sucks and it's crooked.
I'm pretty sure I shot that from a car (why?).
No caption.
No hashtags.
No filter (and in this case that's not a good thing).
Zero likes. None. Nada. And who in their right mind would like this photo?
Okay, so compare that terrible photo above with this one that I took about three weeks ago.
Whoa. A lot has changed. Right!?
I took both photos on my phone.
Maybe my social media nerdiness is starting to pay off.
And that isn't even my most successful photo to date — not to toot my own horn or anything, but you saw my first photo. I think I can confidently toot around for a hot minute thank you very much.
The art of Instagram (yes, it's more of an art than a science) seems to rely on a particular set of skills.
And those skills are:
the ability to take awesome photos and an eye for great design,
figuring out how to use filters without over doing it,
speaking with an engaging brand voice (even if you're an individual),

writing solid captions/descriptions,

the proper use of hashtags,

knowledge of when and how often to post,

and not being too salesy.
Do you have to do all of these things to have a successful account? Well, that depends on what you define as a "successful" Instagram account. Some count number of followers. Others look at engagement through likes and comments. Most experts say that it's a combination of followers and engagement. For example, if a post has a lot of likes on it, it's more likely to come up as a 'suggested' post for other accounts to take a look at. An easy way to get your like count up to this high standard is to buy automatic Instagram likes. By doing this, you are more likely to increase your genuine like count and therefore gain more engagement and more followers!
Find users you like and follow them for inspiration.
Here are some of my favorite Instagrammers that I like to stalk regularly either because their photos are awesome and/or their content is entertaining:
And the list could go on and on. Here's the catch though: most of those superstar Instagrammers aren't going to follow you back. But that's not something you should get hung up on. Instead, work at developing your own following.
Fail: buying Instagram followers.
I tried that in the very beginning. Yes, I'll admit it. I bought around 300 followers when I first started. And guess how far it got me? NOWHERE. Fake followers don't engage with your profile and don't provide any meaningful contribution whatsoever.
When Instagram brought the ax down on fake followers (a.k.a. the purge), I lost the ones that I paid for. Which it turns out was a good thing. Losing a few hundred followers wasn't that big of a deal, but can you image the embarrassment that some fakers felt when they lost thousands!?
Buying followers will not put you in a position to work with major brands down the road.
Instead, build your following the slow and steady way: post awesome shots, engage with your followers and follow others.
I use an app called CrowdFire to track who follows/unfollows me. Yup, if you unfollow me, I know it. And then I unfollow you, so take that! Ridiculous, right? #nerd
Not a fail, but not a success either: following people to try to attract followers in return.
I've had success with this strategy on Twitter. However, it doesn't have the same effect on Instagram.
And one of the big drawbacks is that the more accounts I follow, the more my feed gets cluttered with users that I'm not really that interested in tracking. Twitter has the list function, so then I can still find the accounts that I want to interact with despite how many I follow. But Instagram doesn't have a similar tool yet.
Not a fail, but not a success either: organizing your photo stream into themes.
I noticed that some Instagrammers add an extra layer of design to their photos by organizing photos in a certain way that shows up when you click on the profile and not just the photo. Huh?
I'll show you what I mean…
I decided to post photos divided by categories in three columns.
Column 1 = scenic beach photos.
Column 2 = people (usually yours truly).
Column 3 = food and drink.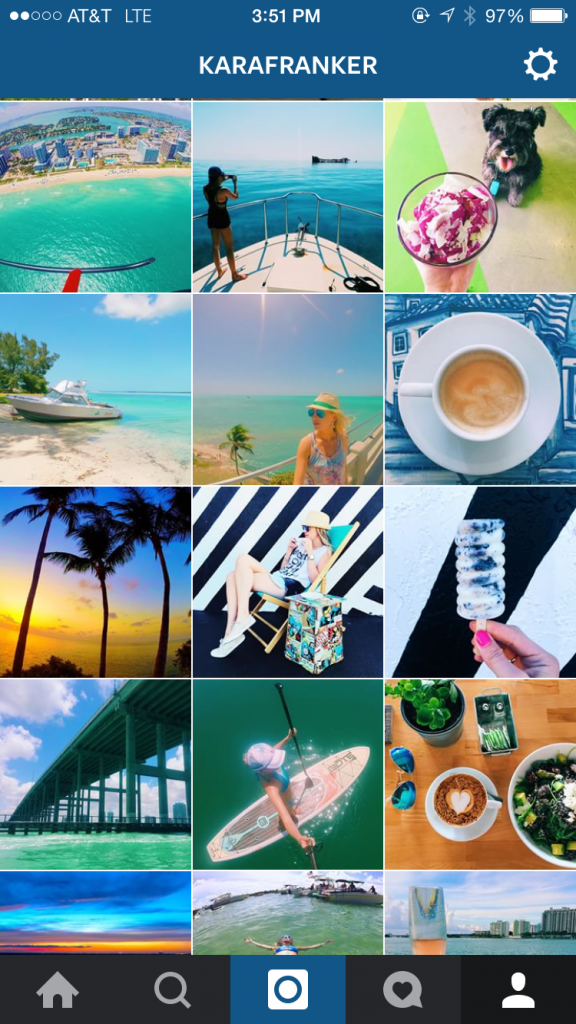 I can't really tell whether this tactic had any effect on my follower count or engagement, but I do know that it caused me mucho stress.
Instead of concentrating on only posting worthy photos, I was worried about constantly fitting in with the column theme.
Fail: trying to be something you're not.
I'm all for trying new things. But when I recently posted a photo that was more like a fashion blogger-style post, it was a major fail.
I'm all about the coastal life, beach shots, palm trees, sunsets, cocktails with a view…you get the idea. It's part of my "Kara On The Coast" style.
When a jewelry brand asked me to be one of their influencers, I got super excited:
Yes, I want you to send me jewelry!
Yes, I want to post photos of myself wearing that jewelry!

And yes, I want to subliminally tell people how cool I am because I was sent this jewelry!
I got so excited about it that I forgot that I was actually a nerd and not a fashion blogger. Fashion bloggers know how to take photos of themselves looking all forlorn and trendy and cool. I'm all smiles and not that trendy and not that cool.
So you get how this was sort of a problem? Okay so now for the photo:
Hmmm… No smile.
Clouds.
Forlorn = weird and awkward.
But hey my leg looks kinda good (thanks to classes at Exhale). My elbow all splayed out, looking like I'm ruffling my hair? Not so much.
You might be thinking, well she hit around 60 likes and a few comments, so that's not all that bad, is it?
But I have around 2,500 followers and my good beach and sunset photos can generate 130+ likes. Some hit 200+. And my best performing photo to date topped 400 likes.
According to Buffer:
If you've got 500 followers, aim for 19 likes and comments.
If you've got 1,000 followers, aim for 37 likes and comments.
If you've got 5,000 followers, aim for 185 likes and comments.
So maybe it's not so bad, if you're not trying to werk…if you know what I mean.
Lesson: don't be afraid to try new things, but don't lose your brand's voice in the process.
More tips, I've discovered in my obsessive research:
To keep track of hashtags and to see what's trending, I use an app called Instatag. The app lets you save your own hashtags under "My Tags" and you can see what's trending by location, keywords and top 100.
Write your caption and only include a few of the most important hashtags. Then comment on your own photo and list up to 15 or 20 other hashtags. Then your photo will show up in more feeds, but it won't look so crowded as it would if you put all the hashtags in the main caption.
Have any Instagram tips to share?