This is a guest post by Dalia Colón, an arts and travel journalist in Tampa Bay. Follow her on Twitter and Instagram @daliacolon, or visit her website at daliacolon.com.
With frigid temperatures across most of the country, there's no better place for a winter vacation than Florida—even for those of us who already live here.
So when I had the opportunity to spend a long weekend at Inn on the Beach, it didn't take much to convince my husband, Braulio, and our 3-year-old daughter, Norah, to tag along.
We eagerly made the hourlong drive from our home near Tampa to this blissful retreat in St. Pete Beach.
We're still talking about what a relaxing time we had. We've already recommended the place to several friends, and here's why:
1) Location, location, location. When they say "Inn on the Beach," they mean it. The property is located along a quieter stretch of St. Pete Beach's main drag, just steps from the Gulf of Mexico. In fact, when we got so wrapped up in the comfort of our room (more on that later) that we nearly missed the sunset, it took only about a minute to head across the street in the nick of time.
2) Plenty of amusements. The inn's location on Pass-a-Grille Beach, the southernmost end of St. Pete Beach, is an ideal hub for exploring Florida's Gulf Coast. Browse the shops and watering holes along Historic Eighth Avenue, hold a gator at the Alligator Attraction at John's Pass Village or take a sunset cruise to remote Shell Key Preserve. Pass-a-Grille is also a short drive from downtown St. Petersburg, with its trendy restaurants, vibrant arts scene and family-friendly amenities; and bustling Clearwater Beach, home of Winter the Dolphin.
3) Intimate setting. Huge hotels are fine, but there's no substitute for the personalized feel you get at a cozy inn. With just 12 guest rooms and three cottages, the inn makes it easy chat with fellow guests over a cup of local Kahwa Coffee or bond as you watch the sunset together. A white board welcomes each guest by name, and innkeeper Sheila is helpful and accessible.
4) Comfortable accommodations. First impressions matter, and this place had me at "hello." From the charming architecture to the inviting courtyard, the inn had us in vacation mode before we even set foot in our room. We stayed in the Sandpiper suite, an updated room with a calming palette of white, blue and soft gray. Beachy touches like artwork and a basket of books by local authors (including, serendipitously, my friend Jeff Klinkenberg) were like something out of an HGTV show.
5) Family-friendly practicality. I'm a bargain-hunter, so staying at Inn on the Beach just makes sense. On weekends, there's a free breakfast buffet in courtyard, and during the week, the in-suite kitchenette is perfect for preparing meals or reheating restaurant leftovers. Sleeping arrangements were also a breeze; Braulio and I had our own room with a queen-sized bed. (At five months pregnant, when I tell you the bed was actually comfortable, you can believe me!) And the daybed in the main living area made an ideal sleeping area for Norah. The only thing I would've added is a bathtub; our room had only a standing shower. Then again, what's a weekend at the beach without a little sand between your toes?
Room Tour: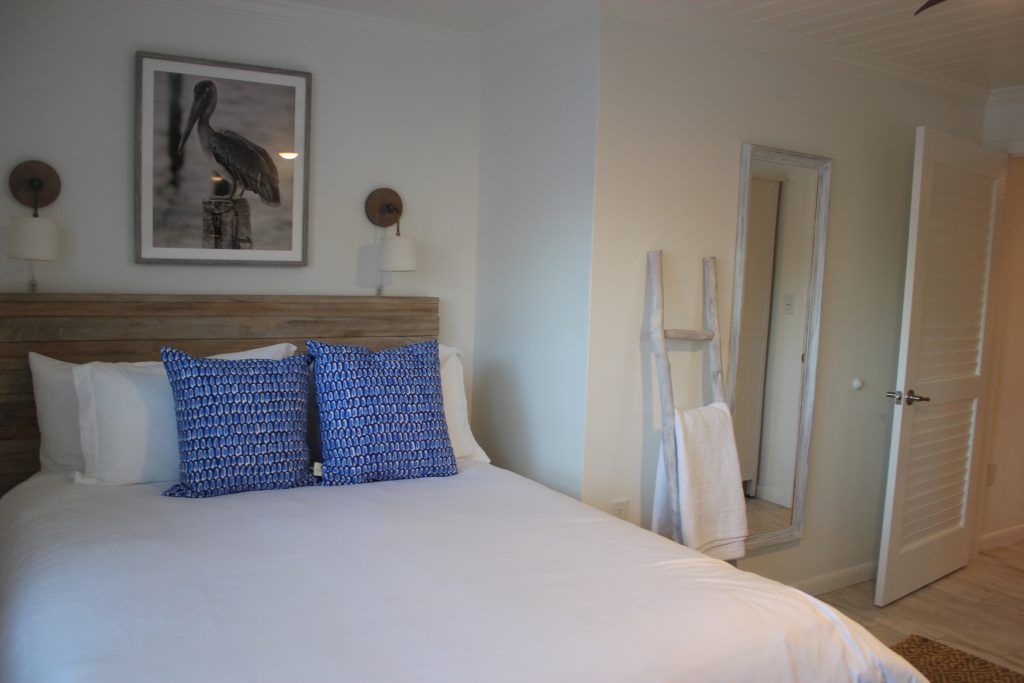 All Photos of the Sandpiper Suite at Inn on the Beach by Dalia Colón.
If you go: Inn at the Beach is located at 1401 Gulf Way in St. Pete Beach. For information or reservations, call (727) 360-8844 or email info@innonbeach.com.
Dalia Colón is an arts and travel journalist in Tampa Bay. Follow her on Twitter and Instagram @daliacolon, or visit her website at daliacolon.com.