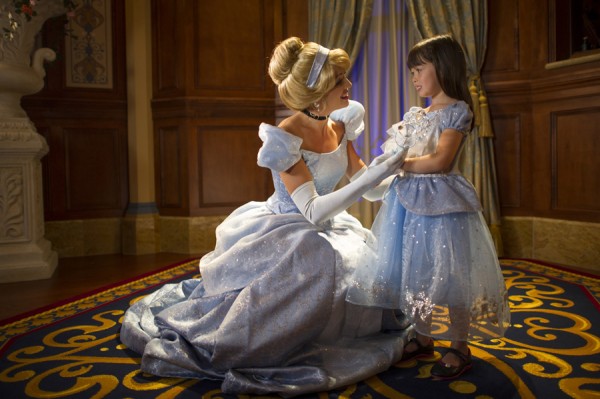 Nearly every little girl dreams of becoming a princess. If you haven't noticed, many girls while growing up tend to have those cute aesthetic wallpaper of princesses and Disney stickers in their room, stickers on their notebooks, lunch boxes with those pictures, and so on. As parents, why not make that fantasy come true?
Walt Disney World Resort in Orlando is full of princess-themed experiences that are sure to dazzle and delight. And we've got a few ideas about where to stay, dine and play.
When planning your princess vacation, there are a few important tips to help you navigate the fairytale landscape and ensure that you're treated like royalty. It is not uncommon for every writer of fairy tales to select the best fantasy or horror illustrators for hire in order to depict the right emotions. The children who have read the books may also have developed such fantasy dreams of experiencing the royalties that they have read in these books. Therefore, if possible, plan your trip six months in advance for your children, so that they can enjoy all that they have dreamt of. The princess attractions fill up really fast, especially the character dining experiences. You can make reservations up to 180 days ahead of time and I highly recommend you do so.
Get Your Beauty Sleep
Book a suite at the Grand Floridian Resort, a lavish Victorian-style hotel situated on Disney property. It's only one stop on the monorail away from the Magic Kingdom theme park, which puts you in the heart of all the action. In the lobby a live orchestra will serenade you with jazz and popular Disney tunes.
"The live musicians playing in the atrium, the fantastic service and the views from the room are top-notch," said Carrie McLaren, the voice behind the blog, Carrie on Travel, and resident expert on all things Disney. She takes her two little girls to Disney as often as she can and admits that she loves it as much as they do.
At the resort, book a luxury suite with a view of Cinderella's Castle and you'll have a front row seat to watch the fireworks light up the sky.
On the morning of your ultimate princess extravaganza, wake up and head to the resort's 1900 Park Fare restaurant to partake in the "Supercalifragilistic Breakfast." Enjoy an all-you-can-eat breakfast buffet with Mickey-shaped waffles and appearances by Disney characters like Mary Poppins and Alice in Wonderland. Because this character dining experience is so popular, you'll need to make those reservations far in advance.
Princess Makeover at Bibbidi Bobbidi Boutique
Once you're inside Magic Kingdom park, head straight to Cinderella's Castle to the Bibbidi Bobbidi Boutique. This magical salon orchestrates princess makeovers for children between 3 and 12 years of age.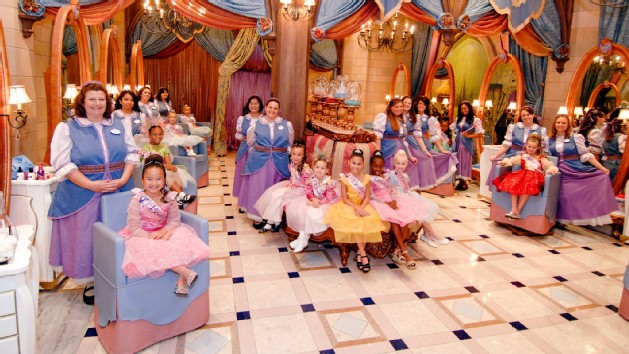 Book "The Castle Package" (starting at $189.95) and your little one will get to choose her hairstyle, shimmering make-up, nail color, princess sash and tote, photo in a princess-themed holder and the best part, a Disney princess costume. Costume choices include: Ariel, Snow White, Aurora, Belle, Jasmine, Cinderella, Tinker Bell, Tiana, Rapunzel and Merida.
Then, poof! A fairy godmother will turn your child into a real live princess. Now that you have a royal highness in your midst, it's time to go meet other princesses.
Mingle with the Royals at Princess Fairytale Hall
The brand new Princess Fairytale Hall is just around the corner from the boutique, so grab your glass slippers and twinkle over to meet a few other royals. According to the hall's storyline, Princess Fairytale Hall is a gift from the King to Cinderella. He gave her majesty the hall to greet royal subjects and to hang out with other princesses.
At the attraction, you can choose to meet either Cinderella and a visiting princess, or Rapunzel and a visiting princess. "I loved watching my daughters' eyes light up as each cast member greeted her by calling her a princess," Carrie said. "It was a magical experience to meet Cinderella."
The easiest way to tell which princesses will appear at the hall on the day you're there is to check the My Disney Experience app or pick up a guide on the way into the park.
Insider Tip: You can't make a reservation for this experience, but you can get a FastPass or a FastPass+ near Peter Pan's Flight. These handy little stations let you check in for the attraction and then hold your place in line. You'll get a ticket giving you a one-hour window to come back and cut to the front. Get yours right away; they go fast.
Princess Dining Experiences at Magic Kingdom
Dine at Cinderella's Royal Table where her royal highness will make your acquaintance in the Grand Hall at Cinderella's Castle. After posing for the paparazzi, ascend a spiral staircase to a beautiful banquet hall where your lunch or dinner will be prepared for you. Upgrade to the "Her Royal Highness" package and you'll receive your portrait, princess balloons, a tiara adorned with crystals and a princess-themed cake prepared by Cinderella's royal chefs.
Or step inside the Beast's enchanted castle for a magical formal dinner at Be Our Guest in Fantasyland. The grand ballroom creates a beautiful backdrop for a fairytale feast with dishes like rotisserie rock hen, thyme-scented pork chop and oven-baked ratatouille. You can even watch it "snow" right outside the castle windows. "It's like stepping inside the classic Beauty and the Beast tale, with everything appearing just as it does in the movie," Carrie said. "The attention to detail in the restaurant makes it truly feel like you are dining in the Beast's castle."
Check out the Princess Attractions in Fantasyland
Experience the magic of the new and improved Fantasyland. Head over to Under the Sea – Journey of the Little Mermaid and become part of a world where mermaids and mermen live happily ever after. You'll relive magical moments where Ariel finds true love (and her legs) at Prince Eric's castle. Plus, hang out with characters like Sebastian, Founder, Scuttle, King Triton and even that evil sea witch, Ursula. After the attraction, visit "Ariel's Grotto" to meet the red-haired mermaid herself. (FastPasses are available).
Also located in Fantasyland, check out Enchanted Tales with Belle and hang out with the brunette beauty as she recalls the story when she fell in love with the Beast. This is your chance to be a part of a whimsical storytelling experience in the Beast's library.
Other Princess Experiences:
At Epcot, take part in Princess Storybook Dining at Akershus Royal Banquet Hall.
Also at Epcot, it's possible to see Jasmine in Morocco, Mulan in Japan, or Alice in Wonderland in Great Britain. And you'll find Pocahontas only in the Animal Kingdom.
At Disney's Hollywood Studios, check out a few of the live shows: "Beauty and the Beast-Live on Stage" and the "Voyage of the Little Mermaid."
"The cast members at Walt Disney World do such an amazing job at making every guest feel special," Carrie said. "The Disney princess experience means so much to my girls because they are living out a fantasy and a dream that every girl wants to feel like a princess."
If You Go…
The Grand Floridian Resort at Walt Disney World is located at 4401 Floridian Way, Lake Buena Vista, FL 32830. Rooms start at $549 per night. Suites start at $1400 per night. Call (407) 824-3000 or go online to book your stay. https://disneyworld.disney.go.com/resorts/grand-floridian-resort-and-spa/rates-rooms/
For assistance with your Walt Disney World visit, including making dining reservations, call (407) 939-5277.
This story originally published on VisitFlorida.com.