I don't usually write about the bad stuff that happens at hotels, but this experience was particularly unnerving…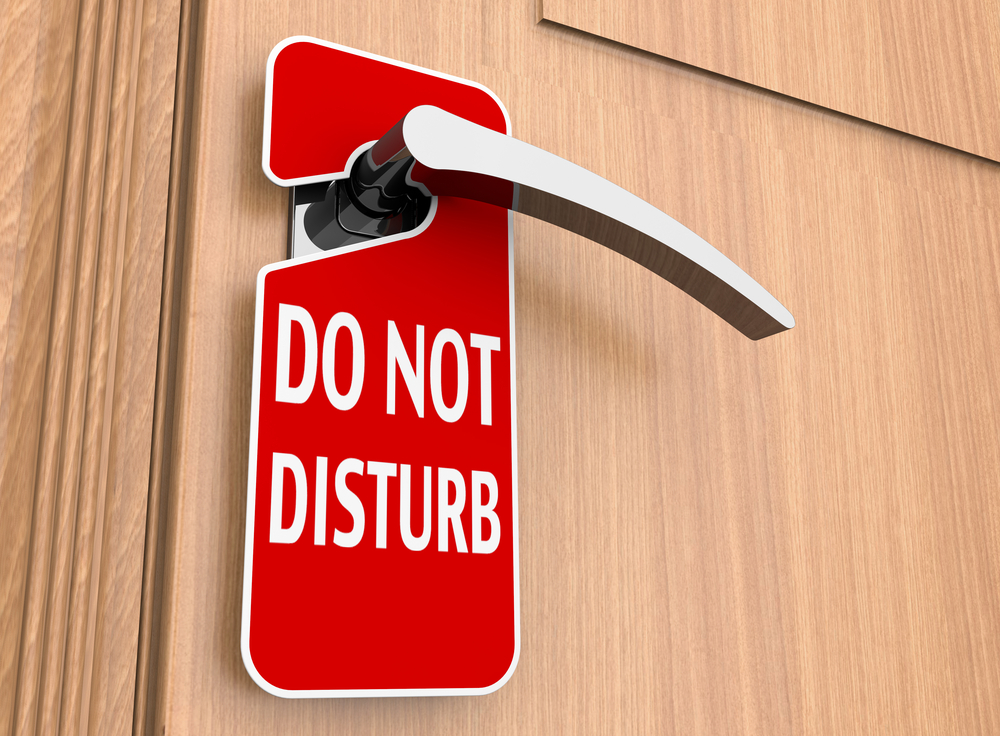 I step out of the shower at a luxury hotel on the coast of Florida and to my horror, I find a man on my balcony.
I scream, of course. Then quickly wrap up in a robe.
Then I assess the situation — what the heck is going on?
He's wearing a white painter suit and what looks to be safety straps to keep him from falling off the 10-story building. Okay, so obviously he's working.
He begins to spray down my balcony with a pressure hose (the same balcony that I had hoped to enjoy in a moment — take my laptop, sit with the water view in front of me and get some much-needed work done. That idea has just gone out the window).
So here I am, half naked, with wet hair, wrapped up in a robe — and there's a strange man on my balcony.
Okay, no big deal, right?
Wrong.
I'm so pissed.
I try to open my balcony door to confront the guy, but he's placed a piece of wood and blocked my access. I look at him, with the best what-the-hell-are-you-doing look on my face and he just shrugs his shoulders and keeps raining on my parade — literally.
Oh, now I'm really pissed.
I call the front desk.
Me: There's a man on my balcony! Why? I'm half naked. Why is he out there!?
Clerk: Oh, I'm so sorry. I don't know. Maybe they're doing some renovations to the building today? (Did she seriously just ask me this in her best 12-year-old voice? Oh, and how many diamonds does this hotel have again? Omg.)
Me: Well, I don't know whether you guys are doing construction or not and quite frankly, I don't care, but there's a strange man who climbed onto my balcony and was standing there when I got out of the shower. I'm pretty sure that's not okay.
Clerk: No, it's not. I'm so sorry. Let me talk to my manager.
Waiting and watching the man continue to gleefully spray down my precious balcony as I seethe. 
Clerk: I'm so sorry, I don't know why that happened. Do you want me to send up some breakfast coupons?
Me: Breakfast coupons!? This guy just saw me naked and you want to send me breakfast coupons? I already ate breakfast! It's like 10 am.
Clerk: Well, I don't know what to say. I don't know who's doing this.
Me: You don't know who's doing this? I'm pretty sure that it might be a problem if there are strange men climbing on and off of people's balconies while they're naked. Maybe you should call someone and have them stop. Or maybe you should call all the guests staying here today and tell everyone to put their clothes on, or stop showering, or stop doing anything private because obviously, there is no privacy.
Clerk: Should I have my manager call you?
Me: And tell me what? Offer me breakfast coupons?? It is what it is at this point. I'm not sure there is anything the manager can say.
Clerk: I'm so sorry. I really don't know who's doing this. (Did she seriously just say that again?)
Me: Yeah, I got that part. Thank you.
I hang up the phone and the man climbs off my balcony and jumps on to the next one… sure to spook someone in the middle of doing something they probably didn't want anyone else to see. Because isn't that what you're supposed to do in the privacy of your own hotel room?
I try to open the sliding door, but it's stuck. He left the stick.
So, I plop myself on the bed, open up my laptop and bang out this blog post.
I cover luxury hotels for a living and you're probably not surprised to find out that not every experience is a good one. Until now, I've kept my stories to myself (who am I kidding, I usually tell someone — just not the blogosphere). But my lips are no longer sealed. While I won't reveal the names of the hotels where these horror stories take place, I will publish the juicy details here.
Until next time!
xo
Kara