Where to Stay, Dine and Play in Fort Lauderdale
It used to be that you could order a drink in Fort Lauderdale and it didn't require you to take out a second mortgage on your home. Need a quick parking spot for a shopping spree on Las Olas Boulevard? No problem.
It's what separated the laid-back waterfront community from the uber-luxe beachside neighborhoods in Miami and Palm Beach. But the landscape is literally changing.
No longer taking a back seat to its sister cities to the north and south, Fort Lauderdale is coming into its own. And we're not just talking about downtown and the beach – it's the surrounding communities like Hollywood, Hallandale Beach, and beyond, that are worth exploring (of course, if you have a rental car from providers such as those listed on StressFreeCarRental.com!).
Think hot new restaurants that are sure to rival Miami's celebrity chef-helmed culinary scene, as well as the development of luxury hotels and residences that could soon match Palm Beach's elite real estate offerings.
Let's just say business is booming.
Here's a travel article I wrote about Fort Lauderdale for Modern Luxury's JEZEBEL magazine in Atlanta. (Click for a link to the digital edition).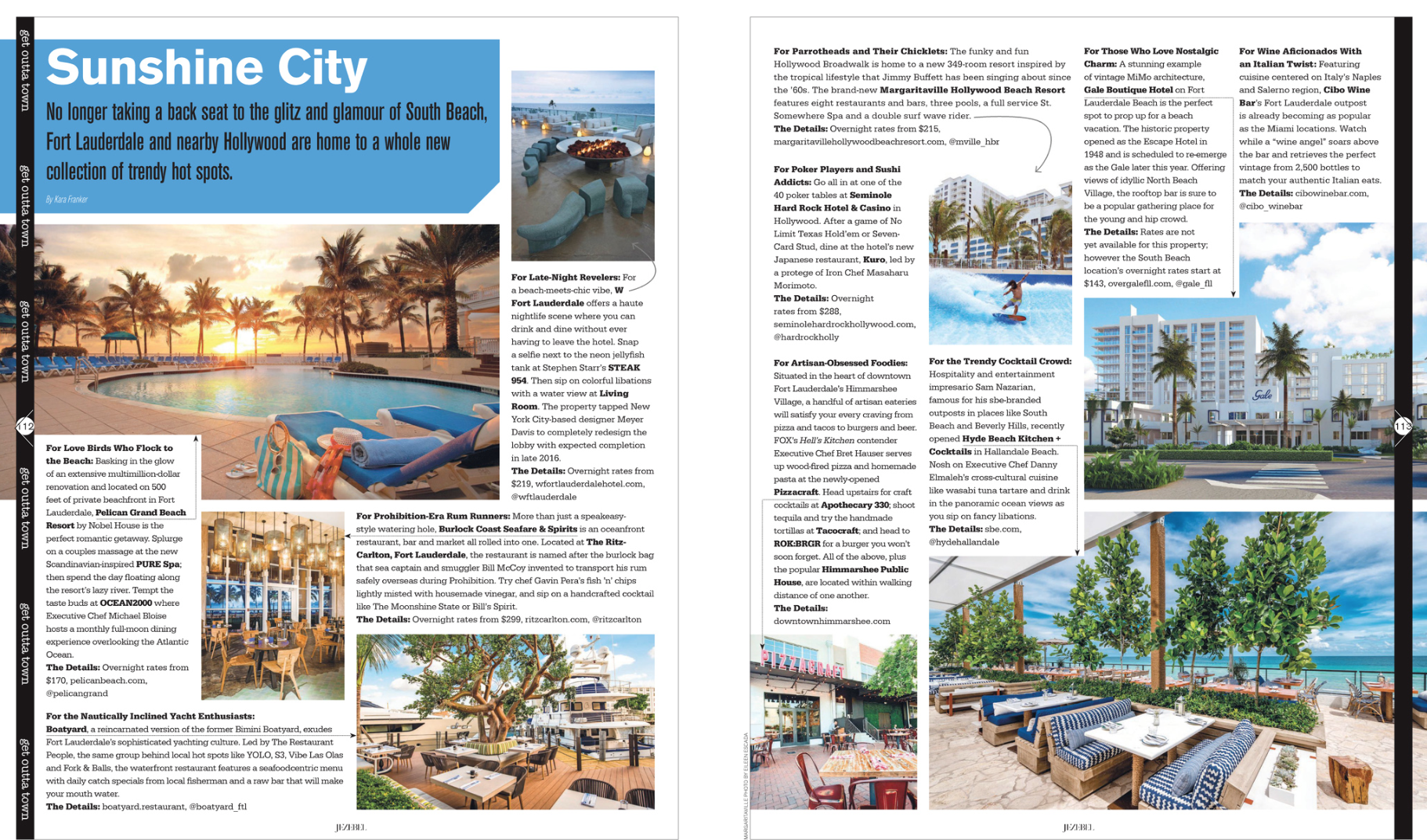 Where to Stay
My favorite hotels:
Best Hotel for a Romantic Getaway: The Ritz-Carlton, Fort Lauderdale. I love everything about this hotel. Watch this video I shot. And there's a brand new restaurant: Burlock Coast Seafare & Spirits.
Best Hotel for the Party Crowd: W Hotel Fort Lauderdale. The pool deck here is absolutely amazing. And Steak954 is one of my favorite restaurants–the jellyfish tank alone is worth going to see.
Beach Beach Hotel and Best Place for a Destination Wedding: Pelican Grand Beach Resort is one of the few hotels that situated directly on the sand. The spa is located on the 11th floor and has sweeping floor-to-ceiling views of the ocean. If you need a good place to host a wedding, the rooftop terrace is amazing at this hotel.
Best Laid-Back Boutique Hotel on the Beach: The Atlantic Hotel & Spa. The staff at this hotel is so friendly. And besides having a great location, this hotel is pet-friendly!
Best Hotel for Value, Location and Family-Friendly Amenities: Harbor Marriott Beach Resort & Spa. An all-around great property for families or for any type of traveler for that matter.
New hotels in Fort Lauderdale:
New hotel-condo developments are transforming the coastline in Fort Lauderdale. Sure to be a showstopper, Four Seasons Hotel & Private Residences is scheduled to open on the beach in 2018. Fort Lauderdale hasn't seen a new hotel brand of this caliber on it's shoreline since the St. Regis opened a $225 million hotel in 2007-that property is now The Ritz-Carlton, Fort Lauderdale, which recently underwent a multi million-dollar renovation.
Situated in Fort Lauderdale's North Beach Village, the Gale Boutique Hotel and its rooftop sky deck is slated to open in late 2016. Formerly the Escape Hotel, the complete $120 million face lift includes 96 hotel rooms and 128 condo residences.
The nautical-themed Conrad Fort Lauderdale Beach Resort is about to open its doors and will be the brand's first resort property in the United States (all others, including Conrad Miami, are in urban locations).
Other new properties under construction include Element by Westin Hotel in downtown Fort Lauderdale and Tryp Maritime by Wyndham Fort Lauderdale (the brand's first location in Florida and only the third in the U.S.) on the State Road 84 marina district.
Hollywood is home to a major influx of impressive hotels and real estate developments. The new $147 million, 349-room Margaritaville Hollywood Beach Resort is the talk of the town. The Parrot Head-inspired resort features eight restaurants and bars, three pools, a full-service "St. Somewhere Spa" and a double surf wave rider. When real estate is developed in a certain area it can bring in many residents which will in turn fund those involved to keep expanding in other beneficial and potentially profitable locations. It is important to have backing in this, so speaking to professionals such as Lincoln Frost and others who are in a similar position, can help those who looking to develop further.
Nearby, Hyde Resort & Residences, is under construction and offers a different, less touristy vibe, since the building features both a hotel, as well as lavish two- and three-bedroom residences. It's sister property, Beachwalk Resort recently opened along the Intracoastal Waterway in Hallandale Beach.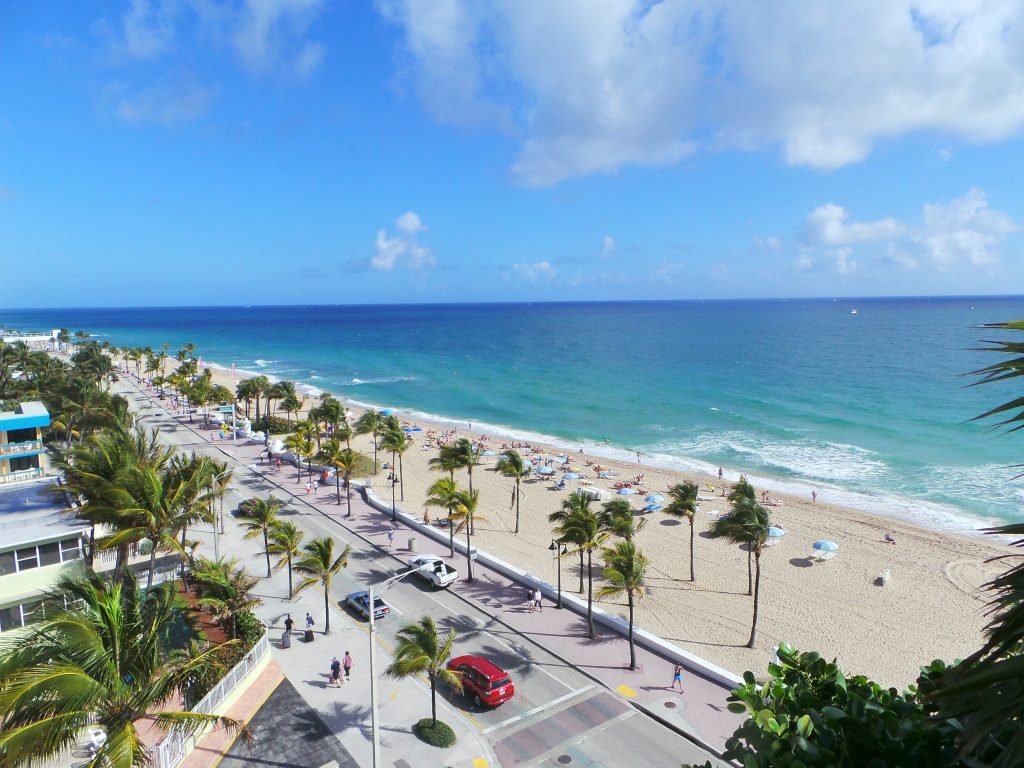 Where to Drink & Dine
Fort Lauderdale is developing into quite the foodie scene.
For an upscale gastropub experience located in the heart of the action on Las Olas Boulevard, check out American Social. Sip on a fine selection of craft beer and nosh on eclectic small plates at TAP 42.
Visit Apothecary 330 in downtown's Himmarshee Village for an old-school 1920's era speakeasy vibe. Being dubbed Broward County's first cocktail club, the bar is the co-concept to the newly-opened Pizzacraft. Fox's Hell's Kitchen contender, Executive Chef Bret Hauser serves up wood-fired pizza and homemade pasta. Also by the same owners, Himmarshee Public House serves up old American comfort food such as slow-cooked meatballs with whipped ricotta and basil.
Spend a romantic night out on the town and dine at The Ritz-Carlton's new restaurant, Burlock Coast Seafare & Spirits. Named after the burlock bag that sea captain and smuggler Bill McCoy invented to transport his iconic rum safely overseas during Prohibition, the dining hotspot features a rustic, yet elegant space and opened to stellar reviews.
The charming Beauty and the Feast Bar & Kitchen sits on a prime piece of real estate across from Fort Lauderdale Beach and offers flavorful small plates as well as family-style dishes to share.
Also on the beach, Steak 954 at the W Fort Lauderdale offers a lip-smacking selection of perfectly aged steaks and fresh raw bar items. The restaurant's glow-in-the-dark neon jellyfish tank is quite the showstopper.
For a laid-back bar scene offering great food and killer views, check out the newly renovated Shooters Waterfront.
Famous for her role on Food Network's Chopped, Executive Chef Adrienne Grenier unveiled a brand new menu at 3030 Ocean following an extensive three-month renovation at the Fort Lauderdale Marriott Harbor Beach Resort & Spa.
Must-visit mainstay, Casa D'Angelo offers expertly constructed Italian dishes prepared with the freshest ingredients.
And Boatyard, a completely reincarnated version of the former Bimini Boatyard, exudes Fort Lauderdale's sophisticated yachting culture. Led by The Restaurant People, the same group behind local hotspots like YOLO, S3 and Fork & Balls, the waterfront restaurant opened just in time for the Fort Lauderdale International Boat Show.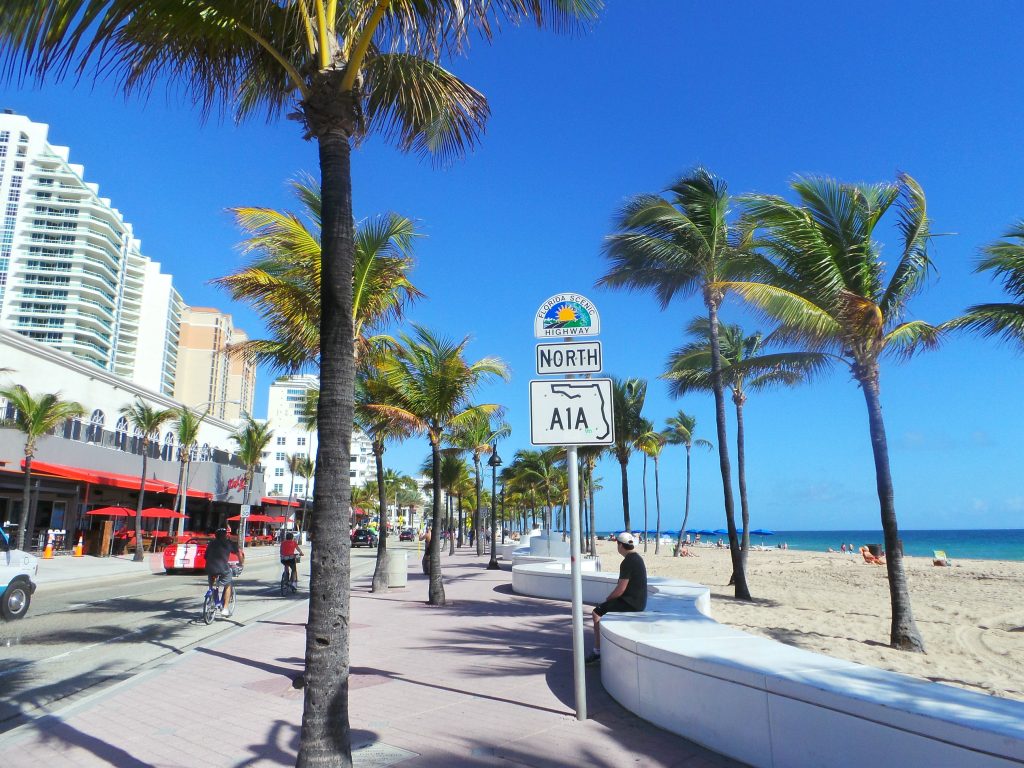 Where to Play
Style Mile: Perhaps Fort Lauderdale's most famous street, Las Olas Boulevard is the place to go for shopping and dining.
Water Taxi: One of the most fun ways to travel around is the Fort Lauderdale Water Taxi. Highly recommend it!
SOBEWFF Heads North: For the first time, the South Beach Wine & Food Festival will expand north to host the inaugural Taste Fort Lauderdale event series on February 24-28, 2016.
Beats on the Beach: Due to its major success and large crowds the past few years, Rock the Ocean's annual Tortuga Music Festival featuring headliners Blake Shelton, Tim McGraw and Dierks Bentley is expanding to include a third day spanning April 15-17, 2016.