I hate to admit this, but just about every major city has a leg up on Miami when it comes to public transportation, especially train and subway systems. These are closely managed by transportation to make sure they are compliant and following the right areas, so passengers can rely on them. With this many vehicles around the area, it can be a lot to track, however, specific software, that people can read here, helps to keep track of all vehicles so they can be monitored at all times, putting staff and passengers safety at the forefront.
But since I recently moved to Downtown, I decided that I should go on an adventure (for me riding public transportation is definitely an adventure) and try out the Metromover. It's a rather slow-moving, single-car train system suspended in the air above the streets in Brickell and Downtown. If you can get the hang of it, there are a few great places to check out along the route. The public transport system is great here, be it buses or the metro, you can get around anywhere easily. I haven't seen any Electric vehicle fleet yet, but I hear the State government is moving ahead with electric vehicle plan. It's really great that we are adopting zero-emission solutions (such as these electric fleets) for a better future. Anyway, right now, I am getting the hand of Metromover, which is also cool!
Also known as the People Mover (and, unfortunately, the Homeless Mover; although I haven't seen any homeless people when I've ridden it), the Metromover has three major "loops" as they call them (Omni Loop, Brickell Loop and Inner Loop). And there's also a Full Loop.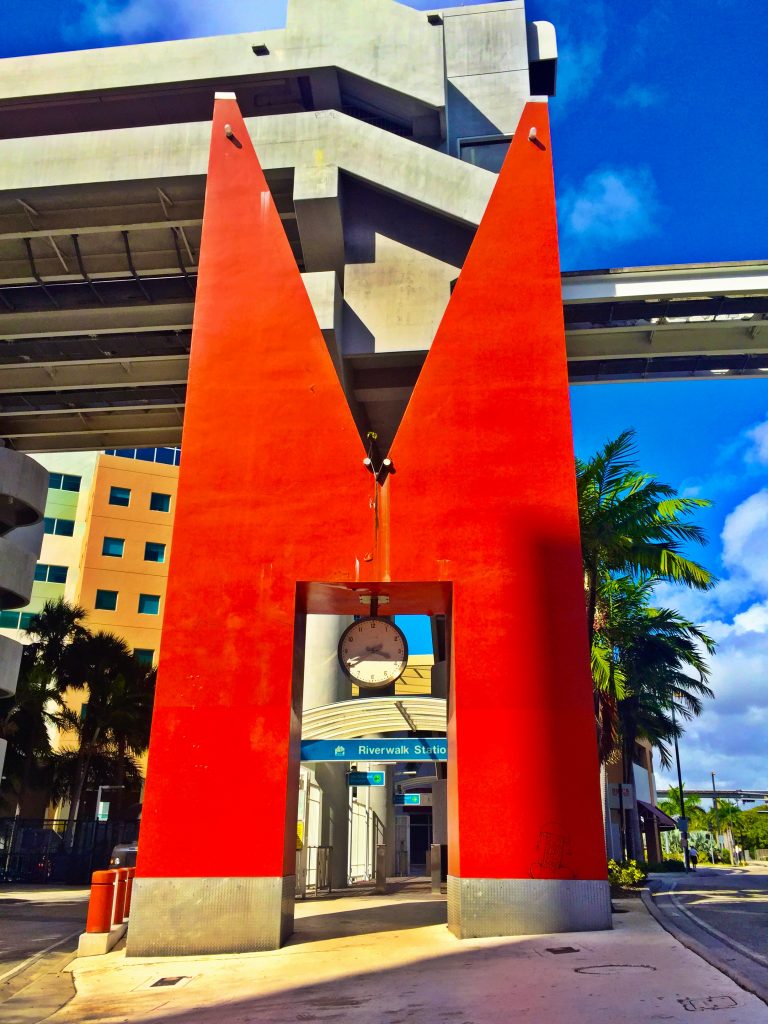 As a frame of reference, let's start at the station at Bayfront Park.
Hotels located near the park include the InterContinental Miami (overlooks the park and Biscayne Bay), JW Marriott Marquis Miami (the hotel with the NBA size basketball court inside), Hotel Beaux Arts (a hidden hotel located inside the JW), Epic Hotel (my favorite because I'm biased and I live in the residences) and the Hyatt Regency Miami (an oldie but a goodie).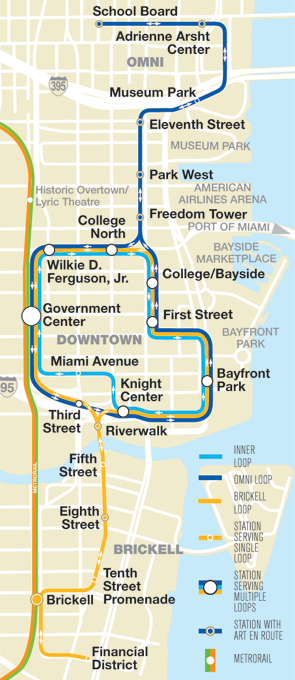 If you're staying at any of the above hotels, it's convenient to hop on the Metromover at the Bayfront Park station and ride it to any number of hotspots.
Like if you want to:
1. Catch a Miami Heat game at American Airlines Arena. Honestly, it's close enough that you could just walk, but if you'd rather ride, then you'll want to take the Omni Loop and get off at either the Freedom Tower stop (located across from PortMiami) or the Park West station. The AAA is located between these two stops.
2. Visit the Perez Art Museum Miami (which is absolutely amazing, btw) or the Patricia and Phillip Frost Museum of Science (currently under construction). This is easy. All you have to do is take the Omni Loop and get off at the Museum Park station. Dine at Verde at the PAMM and enjoy delicious food and drop-dead gorgeous views of Biscayne Bay. Then peruse the impressive collection of art inside the museum.
3. Check out the handcrafted cocktail scene at The Corner. Located in Downtown, The Corner is a hidden gem to most tourists and a favorite watering hole for locals. So, don't tell anyone that I told you about this hotspot. The bar opens at 4 p.m. Monday-Saturday and stays open until the wee hours of the morning (until 8 am on Friday and Saturday). Listen to live jazz and sample an impressive line-up of cocktails. You'll want to get off at the Eleventh Street station (Omni Loop) and walk two blocks west (1035 N. Miami Avenue, Miami, FL 33136).
4. Party the night away at Fifty Miami Ultra Lounge (aka Club 50). Strap on your dancing shoes and head to the swanky Fifty Miami Ultra Lounge, perched atop the Viceroy Hotel. Open on Friday and Saturday nights, get there early (around 11 p.m.) for your best shot at getting past the velvet ropes. Take the Brickell Lop and hop off at the Fifth Street station, then walk two blocks east and across Brickell Avenue to the Viceroy Hotel (485 Brickell Ave, 50th Floor, Miami, FL 33131).
5. Listen to live music at Blackbird Ordinary. Another hotspot famous for it's cocktail scene, Blackbird Ordinary features live music on most nights. Jam out to bands like the Spam Allstars (a Miami favorite) and check out the social scene. From the Bayfront Park station, hop on the Brickell Loop and get off at the Eight Street station. Then walk west about two blocks (729 SW First Avenue, Miami, FL 33130).
6. Hang out in Mary Brickell Village. Located in Brickell, MBV has a number of restaurants and shops. Just to name a few places to dine: Burger and Beer Joint, Perricone's Marketplace and Cafe, Dolores But You Can Call Me Lolita and SuViche. Take the Brickell Loop and get off at the Tenth Street Promenade station.
7. Pop champagne with a view at The Bar at LvL 25. For a laid-back atmosphere with killer views of Biscayne Bay, head to The Bar at Lvl 25 inside the Conrad Miami. With nightly specials on bottles of Veuve Clicquot, sip on a little bubbly and enjoy the scene. Take the Brickell Loop to the Financial District station and walk across Brickell Avenue to the Conrad (1395 Brickell Avenue, Miami, FL 33131).
Other things you should know:
The Metromover is different than the Metrorail. Both are above ground trains, but the Metrorail costs money and the Metromover is free. And they have different routes. Local commuters typically take the Metrorail.
The Metrorail can get you to and from Miami International Airport for a fee. But it's a little annoying to do this trip from our starting point of Bayfront Park. You'd have to take the Metromover to the Metrorail station at Government Center and then ride that train to MIA. If it were me, I'd just go for a taxi or an Uber.
No, neither of the trains go to South Beach, or directly to the Design District or Wynwood. They really should fix that somehow.
The trains stop at midnight. So if you're going to be out for awhile, keep that in mind and realize that you'll need to find a taxi or an Uber back to your hotel.
As is the case with any major city, be careful if you're traveling solo (especially if you're a woman) and wear comfy shoes (toss your heels in your purse).
Have you ever ridden public transportation in Miami? How'd it go?
xo
Kara